Cover illustration
by Byron Gin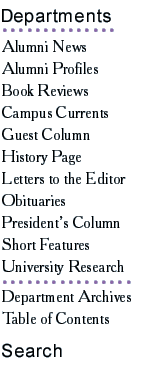 Courage Under Fire
(Continued from previous page)
Again Under Fire
The last major incident involving Professor Daggett, and the one with the most serious repercussions, occurred on April 21, 1963, when he met with a dozen students in the Youth Peace Fellowship on campus. Daggett presented his view that the United States and the Soviet Union shared similar goals, and promoted China's admission into the United Nations (UN). He also suggested that the UN flag, as a universal symbol of peace, should fly above those of individual nations. A Union Leader reporter attended the meeting and immediately contacted Louis Wyman, by then a U.S. congressman. Wyman called on the board to fire Daggett, stating that "freedom of speech need not be paid for by taxes."
President John McConnell, in office just two months, called in economics professor Sam Rosen, then president of the campus AAUP. McConnell asked Rosen what the AAUP would do if UNH were to sanction Daggett. "I told him I would get the AAUP to come in and investigate, and they'd probably tell the world in their publications that UNH was in violation of academic freedom," Rosen says. President McConnell and the trustees took no action against Daggett, but under extreme pressure to fire him, they once again withheld a raise. The Faculty Welfare Committee eventually persuaded the trustees to grant the salary increase.
The administration's cautious support of Daggett's right to express unpopular political views set the stage for the next battle. In advance of the 1964 national elections, the campus welcomed a succession of political speeches by major party candidates, but braced for more negative attention when a student group called "No Time for Politics," invited American Nazi party leader George L. Rockwell, and James Jackson, editor of the communist Worker, to speak. Amid the ensuring controversy, the trustees called for a review of the university's speakers policy, first passed in 1950 to protect free speech rights. After panel discussions and open hearings with faculty and students on the subject of free speech, the board voted unanimously to keep their policy supporting academic freedom in place. President McConnell announced to cheering students the university's decision to support their right to invite even "objectionable and insubstantial" speakers to campus.
These developments outraged many conservatives and led the N.H. Legislature to propose a bill in 1965 to strengthen the state's anti-subversive act. Under the Feldman provision, tax-supported organizations would be barred from hosting "subversive organizations" on their premises. The proposed law, clearly an attempt to limit certain types of speech on college campuses, galvanized the university community to an astonishing and unprecedented extent. The administration reached out to faculty, students and their parents, and to the larger academic community, seeking their help in defeating the bill that seemed to threaten the university's core values and mission. During public hearings, hundreds of people crowded into Representatives Hall at the Statehouse in Concord, with UNH trustees and faculty, as well as former governor Sherman Adams and leaders from other New England colleges, speaking out in defense of academic freedom. After seven hours of debate on the House floor, the bill failed on a 205 to 176 vote.
In the last few years of his life, Daggett quietly took himself out of the limelight, promising then President Robert Chandler that he would refrain from talks on controversial political issues. Daggett poured his energies into the classroom. At a time when government sought an obedient citizenry to cope with both real and imagined threats, Daggett urged students to think for themselves.
When students dedicated the 1970 Granite in his memory, they concluded that his greatest contribution was that time spent in the classroom. The dedication reads in part: "'I suspect we'll never find another man so dedicated to teaching, so humanly trained and competent.' Thousands of students would agree." ~
Kimberly Swick Slover is director of communications at Colby Sawyer College and former editor of the University of New Hampshire Magazine.

Easy to print version blog comments powered by





Current issue | Past issues | Class notes
Department archives | Send a letter/news | Address updates
Advertise | About UNH Magazine | Alumni home | UNH home

University of New Hampshire Alumni Association
9 Edgewood Road Durham NH 03824 (603) 862-2040
alumni@unh.edu