Cover illustration
by Byron Gin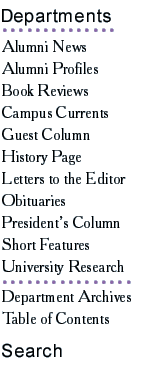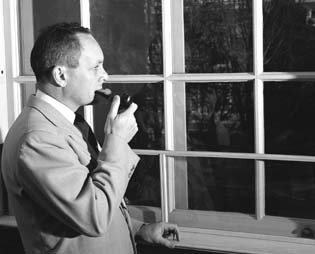 Courage Under Fire
Professor Gwynne Daggett's greatest lesson was the example of his life
By Kimberly Swick Slover
rofessor Gwynne Harris Daggett would have returned to the University of New Hampshire in the fall of 1969 in high spirits, whizzing across campus on his Raleigh Sport bicycle, his gray suit coat flapping in the breeze. He would have relished his role that semester as president of the first University Senate to include students. To the popular but controversial English professor, his appointment must have seemed a stirring vote of confidence, even a vindication of his dogged push against limits on academic freedom, which for nearly two decades had pitted the university against the most powerful political forces in the state.
Instead, Professor Daggett's sudden death at age 62 from a heart attack while waterskiing, just days before his scheduled return, led to a different scene in Durham. Throngs of people--students, professors, even farmers--assembled at the town's Community Church to mourn the loss of this extraordinary man. They packed the plain white-clapboard building because Daggett had been their friend and had stood up for their individual rights at great personal and professional cost.
Gwynne Harris Daggett arrived at UNH as an idealistic young assistant professor in 1942. A diary he kept as a young man reveals a romantic, rather melancholy spirit, at odds with what he viewed as the materialistic values of his peers. He earned bachelor's and master's degrees from Cornell University, then went on to complete his Ph.D. at the University of North Carolina. He embraced the works of 19th-century writers Walt Whitman, Henry David Thoreau and Ralph Waldo Emerson, all of whom celebrated nature and the dignity of the common man.
Daggett taught for a year at the University of Florida, but left there after a year to take a position in UNH's English department in 1942. Two years later he co-founded the university's humanities program, which introduced students to ambitious courses that covered almost any subject related to Western civilization. He taught with an infectious intensity. He demanded students arrive in class well prepared and insisted they take part in lively discussions. He quickly became one of the most popular teachers on campus, with students of all majors lining up for his courses.
The Red Scare
At the beginning of the Cold War, anti-communism was a national obsession. In the late 1940s, the Immigration and Naturalization Service (INS) began detaining or deporting labor leaders and other suspected communists. The House of Un-American Activities Committee launched investigations into Hollywood's left-wing affiliations, eventually blacklisting hundreds. By 1950, Wisconsin Sen. Joe McCarthy was claiming to have lists of alleged communists in every walk of life, including in the State Department and U.S. military.
The waves of fear and suspicion gripped New Hampshire with particular ferocity, and influential conservatives embraced the crusade with zeal. Beginning in the mid-1940s, Manchester Union Leader and New Hampshire Sunday News publisher William Loeb used vitriolic front-page editorials to attack anyone or anything he viewed as dangerous or subversive. Because of Daggett's leadership in the liberal Progressive Citizens of America--as well as his penchant for inviting thought-provoking speakers of all kinds, even political radicals, to address his humanities classes--he soon became a favorite target.


Easy to print version blog comments powered by





Current issue | Past issues | Class notes
Department archives | Send a letter/news | Address updates
Advertise | About UNH Magazine | Alumni home | UNH home

University of New Hampshire Alumni Association
9 Edgewood Road Durham NH 03824 (603) 862-2040
alumni@unh.edu