Cover illustration
by Byron Gin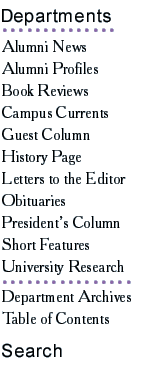 The Entrepreneurial Edge
(Continued from previous page)
Peter Getman '90, Barrett McDevitt '85 and Michael DesRochers '86, MicroArts Photo by George Barker
Going Global
Michael DesRochers '86, Peter Getman '90 and Barrett McDevitt '85
MicroArts

he three principals of MicroArts--Michael DesRochers '86, Barrett McDevitt '85 and Peter Getman '90--are still riding high. Early this year, the company DesRochers founded as a student at UNH was acquired by one of the world's largest advertising agencies, Cordiant Communications Group, for $47.4 million in stock, with an additional $40.7 million pending. The three partners, who say their personalities are "as different as the seasons," discovered a formula for success early on and have followed it ever since: DesRochers dreams things up; McDevitt designs and delivers them; and Getman sells them.
In the airy loft of a converted barn in Greenland, N.H., "creatives" such as Web designers, graphic artists, writers and photographers work in front of oversized computer screens. On the MicroArts Web site and in its promotional literature, these same people are pictured rock climbing and surf casting, hugging their smiling children or driving a tractor. A tagline runs below these images: "We are not what we do; what we do is an expression of who we are." What MicroArts has done for its own image--transforming technical expertise, vision and business savvy into a desirable commodity--is the same thing it does for its high-tech clients.
MicroArts drove the makeover for SCC Corporation, a software company based in Portland, Maine. SCC had been focused on the health-care industry, but hoped to transform itself into a business-to-business (B2B) technology-services company in 2000. MicroArts forged a new name, identity and mission for SCC, introducing it with fanfare as "I-Many"--the go-to company for the technology infrastructure that builds solid B2B relationships. This new image was promoted through the Web, trade shows, national advertising and direct mail campaigns, positioning I-Many as the new market giant. Perception becomes reality faster in the high-tech world than elsewhere, and in July 2000, I-Many launched a successful initial public offering (IPO) for its stock.
That's the kind of work MicroArts is doing today, but it wasn't long ago when selling a $200 ad would have been a big deal for the company's founder. In 1988, DesRochers began producing "Welcome Back" coupon books for UNH students, filled with advertisements from local businesses. Getman, then a business administration major, joined the business, and the two scraped by on advertising revenue. "I had money in the bank for the first time, just as I was learning about debits and credits. It was fortuitous that I was able to apply what I was learning to the business right away," he says.
After college, DesRochers recruited McDevitt, a struggling artist who jumped at the chance to learn computer graphics. "I thought, here's my opportunity to do what I love and actually make some money at it," says McDevitt. "(UNH professor) John Hatch gave me the confidence that I had the talent to make it as an artist, but I didn't want to be a starving artist."
As high-tech industries exploded during the '90s, MicroArts reinvented itself continuously to capture new niche markets. It emerged in the late '90s as a hybrid agency that delivers cohesive brand identity, advertising and marketing campaigns across all electronic-communication channels. "There's a short life cycle in technology markets, so we have to move quickly to bring products to market," Getman explains. "The 'build it, they will come' philosophy doesn't work; our campaigns drive customers to our clients' Web sites, which is the most cost-effective way to do business."
As MicroArts grew, the partners worked constantly to strengthen their partnership, set the next milestone and nurture a dynamic corporate culture. They believe in replacing themselves with even brighter, more talented employees who can do their original jobs better than they can. The acquisition by Cordiant marked the beginning of another new stage in the company's development.
Over the past six months, MicroArts has focused on serving Cordiant's Fortune 5000 clients and building a new global brand identity for its interactive group. "The acquisition gives us the resources to take what we built in Greenland to a global scale," Getman says, adding that the pressure is still on MicroArts to perform. "Cordiant has made a substantial investment in us, and we're committed to making sure they get a good return."

Easy to print version





Current issue | Past issues | Class notes
Department archives | Send a letter/news | Address updates
Advertise | About UNH Magazine | Alumni home | UNH home

University of New Hampshire Alumni Association
9 Edgewood Road Durham NH 03824 (603) 862-2040
alumni@unh.edu