Photo by
Philippe Merle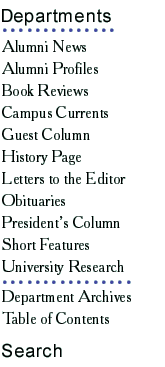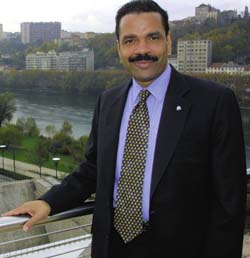 The World's Top Cop
The first American to lead Interpol is at the center of the war on terrorism
See also:
Meet the Man from Interpol
The Interpol Dossier
By Maggie Paine
ast month, Ronald K. Noble '79 traveled from his office in Lyon, France, to New York, Prague, Tunis and Washington. This month his schedule calls for trips to Brussels, Edinburgh, Rome, Paris and Sun City, South Africa. At a time of heightened airport security, his itinerary seems suspicious, and in spite of his well-tailored suit and perfect English, he suspects that he does, too. "Customs officials think I look like a terrorist," he says.
Far from being a terrorist, Noble is the secretary general of Interpol, an international police agency dedicated to combating terrorism and international crime of all kinds. A few years ago, as the U.S. Treasury Department's first under secretary for enforcement, he was actually in charge of the Customs Service, not to mention the Secret Service, the Bureau of Alcohol, Tobacco and Firearms, and other federal agencies with a total of 35,000 employees. He assumed command of Interpol in November 2000, the first non-European and the first non-Caucasian to serve as secretary general.
With 179 member countries on five continents, Interpol is larger than any other international organization except the United Nations. Its function is to collect, analyze and circulate intelligence that could be useful in preventing or prosecuting international crimes. And in the aftermath of the Sept. 11 terrorist attacks, it is at the center of the suddenly intensified war on terrorism.
It was neither luck nor accident that put Noble at the head of Interpol at such a critical time. He campaigned hard for the job, and he had the unanimous support of U.S. law enforcement officials, including then-Attorney General Janet Reno. New York City police Commissioner Raymond W. Kelly, an Interpol executive committee member, was so determined to see Noble elected that he flew to Lyons to vote for him only three weeks after undergoing open heart surgery. Noble was no stranger to Interpol. During his years at the Treasury Department, he had been a U.S. delegate to Interpol's General Assembly, and he had served on the executive committee. He saw that crime and terror networks were taking advantage of globalization and modern technology to extend their reach around the world. The demands on Interpol were growing and changing, and he wanted to make sure the organization would be up to the challenge.

Interpol's headquarters is set apart from the rest of Lyons, a city of 453,000. It sits on a narrow strip of land between the wide, green Rhone River and a large man-made lake in the Parc de la Tete d'Or. Its nearest neighbors, located some distance away on the same green island, are a museum of contemporary art, a Hilton Hotel and a conference center. Interpol dominates its site, a cube of glass panes and concrete columns encircled by a reflecting pool.


Easy to print version
blog comments powered by




Current issue | Past issues | Class notes
Department archives | Send a letter/news | Address updates
Advertise | About UNH Magazine | Alumni home | UNH home

University of New Hampshire Alumni Association
9 Edgewood Road Durham NH 03824 (603) 862-2040
alumni@unh.edu