Alumni Profiles
Best in Class


Two UNH alumni shine in American and Canadian football's top championships





By Andrew Leibs '87G




Easy to print version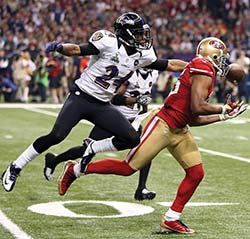 Paul Spinelli/AP

PREVENTIVE MEDICINE: Ravens cornerback Corey Graham '07, left, breaks up a pass to Michael Crabtree during Super Bowl XLVII. The Ravens won 34-31.
Corey Graham '07 and Chad Kackert '10 both had athletic skills that seemed to leap off their recruiting tapes. But what prompted head football coach Sean McDonnell '78 to offer them scholarships was less tangible. "Both of those kids had that 'something' you look for in a recruit," McDonnell says. "You can't put your finger on it, but they had it."
They still do—and at the highest levels of the game. In the past year, Graham and Kackert's respective accomplishments in the NFL and the Canadian Football League have opened dramatic new chapters to their careers.
In January 2013, Graham, a Baltimore Ravens cornerback, twice intercepted Denver's Peyton Manning in the divisional playoffs. Three weeks later, in Super Bowl XLVII, Graham broke up key plays in Baltimore's 34-31 upset of San Francisco.
In November, Kackert, a running back with the Toronto Argonauts, caught eight passes in a 35-22 victory over Calgary in the 100th Grey Cup—the CFL's championship game—and was named Most Valuable Player. That recognition has drawn interest from NFL teams.
Mark Blinch/Reuters

PLAYMAKER: "He's unbelievable," Argonauts quarterback Ricky Ray says of Chad Kackert '10, above in action and at left after being named MVP. "He has the ability to make so many explosive plays, and that's been the difference for us offensively."
In retrospect, it's surprising that either Graham or Kackert wound up at UNH. Graham first heard of UNH through his high school football coach Willie Burnett. "To be honest, I didn't make the decision," Graham says. "Mr. Burnett thought it was the best place for me and would give me the opportunity I was looking for."
McDonnell liked Graham's potential, but saw him as more of a project than projected starter. "I thought if he did everything right and got in the weight room, he could do something," McDonnell says. "But I wasn't sure because he was so skinny." But within a year, Graham was the mainstay of the UNH secondary. "Every game he went into, the other team's top receiver was going to be locked out," McDonnell says.
Graham is happy at his new home with the Ravens. "I love it here," Graham says. "It's a class-act team and I couldn't ask for anything better."
At high school in Simi Valley, Kackert was obliterating rushing records when offensive coordinator Chip Kelly '90 (subsequently head coach at Oregon, now head coach of the Philadelphia Eagles) discovered him while watching a California state championship game. "Chip called me from the stadium and said, 'I've got a tailback for us,'" McDonnell recalls. "'There's just one problem—he's not real tall.'"
Kackert was planning to stay out west. Although he ran for 56 touchdowns as a high school senior, small-school competition and his compact frame (5 feet 8 inches) made colleges cancel visits. But Kelly and McDonnell saw something. "His tape was mesmerizing," McDonnell says. "He was one of the most explosive runners we'd ever seen." Despite the distance, Kackert quickly accepted the UNH offer. "Everyone thought it sounded crazier than it sounded to me," he says.
By the time he was a senior running back, Kackert was confident enough to wave off the coaches when they wanted to swap in a bigger player on the 5-yard line when UNH was down 24 to 20 in the fourth quarter against Maine. Getting the handoff and running it in for a touchdown is among his fondest memories: "I just remember that feeling, the team coming around me, and being right there by the fans, securing the victory."
Mike Cassese/Reuters Todd Korol/Reuters
After graduation, Kackert never liked hearing what an ideal fit his skills seemed for the CFL. "I thought people said that because they thought I couldn't make it in the NFL," he says. He couldn't—not at first. He signed with Jacksonville and was cut in training camp.
Toronto was a far better fit. After he signed in February 2011, Kackert discovered the wider field gave him more room to run. It still feels like a dream to have been named the MVP of the 100th Grey Cup in just his second season, he says. "In the fourth quarter, people were saying, if we pull this off, you could be the MVP," he says. "I thought, Get out of here."
Return to Alumni Profiles
blog comments powered by