Alumni Profiles
Mary, Queen of Politics


Five decades of mentoring Democratic aspirants





By Meg Heckman '01




Easy to print version
The Concord Monitor and courtesy of Mary Louise Hancock
The front room in the Concord, N.H., house belonging to Mary Louise Hancock '42 was once called New Hampshire's "pre-eminent political salon" by The Economist. Hancock herself is often referred to as the "Queen Bee" or the "Grande Dame" of Democratic politics. She's been profiled by People magazine and consulted by presidential hopefuls who visit the house every four years.
But Hancock insists that she's just an ordinary person with a knack for networking and a deep belief that government, when properly run, can do real good. "Politics is the government, really," she says, and "the government is supposed to look after people."
Hancock, 92, grew up in Concord, listening to the political debates that unfolded in her father's downtown drug store. Her fascination with politics grew when she learned that FDR had survived polio, a disease she'd also battled as a child. In 1944, she joined the N.H. Department of State Planning as a research librarian. Sixteen years later, she was named the department's director, a rare feat for a woman at the time. During her tenure, Hancock led many of the state major conservation efforts, including the creation of Odiorne State Park.

The Concord Monitor and courtesy of Mary Louise Hancock

THE SALON: Mary Louise Hancock '42 with, left to right, John Lynch '74, Al Gore and Bill Clinton. And below with Hillary Clinton and Lynch.
In 1976, she was elected to the state Senate, and served until 1979, when she was appointed to a position with HUD. Hancock also served two terms on the university's board of trustees. It was during her run for Senate that Hancock met John Lynch '74, who was working at the time as executive director of the state Democratic Party. He helped with her campaign; she's mentored him ever since. "Mary Louise has this incredible ability to make everyone feel they are her best friend," he says.
"There are just certain people," says Raymond Buckley, state Democratic Party chairman, "who have such an ability to cut through the baloney and figure out the truth of any situation."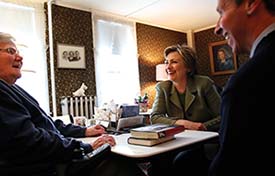 The Concord Monitor and courtesy of Mary Louise Hancock
Hancock's often brutally honest advice has brought a steady stream of politicians to her door. Some were seeking the presidency. Others wanted help with running for Congress or the state Legislature.
Her house has been the site of many high-profile political events, but it's the quieter visits that have had the biggest impact. In 1988, Bill Clinton asked her for help in deciding if he should seek the Democratic nomination that year. Based partly on her advice, he delayed his run. "I had a Sunday morning meeting right here in this room," she says. "There's a picture of us right there. Before his hair got white."
The bonds between Hancock and the people she's mentored go far beyond politics. A cadre of close friends has helped her celebrate the milestones of age and meet its challenges. In return, she continues to offer wisdom and advice.
"When I stop by to see Mary Louise, I always feel better," Lynch says. "She inspires all of us to do a better job and be better human beings."
Return to Alumni Profiles
blog comments powered by