Features
Mission: Possible


With the help of a native son and daughter, more students from Berlin, N.H., will be able to attend UNH.







Easy to print version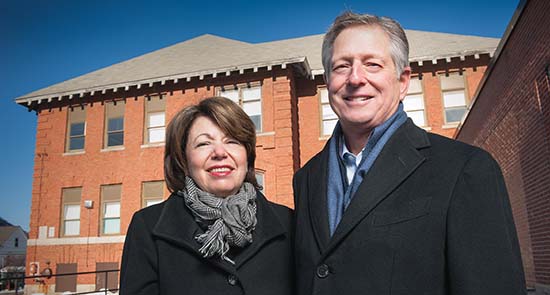 Perry Smith/UNH Photographic Services

NORTHERN EXPOSURE: Linda Labnon Rydin '71 and Craig Rydin '73 in Berlin, N.H.
The city of Berlin is nestled in and protected by the Presidentials to the south, the powerful Androscoggin River to the east, and granite-sloped Mt. Cabot to the west. But above and beyond these iconic geographic boundaries, Berlin is a place that is protected by its own. Here, people take care of each other. Residents leave their doors unlocked at night. When misfortune strikes—an illness, a fire, a lost dog—people reach out to help. Bake sales are held, spare rooms are offered. Berliners are not only optimistic about their city's future, they are deeply dedicated to its well-being. UNH sociologist Michelle Dillon, who wrote a study on Coos County for UNH's Carsey Institute this past summer, explains it this way: "There is a relentless commitment to helping each other."
Sometimes, that commitment comes from those who were born and raised in the Great North Woods and later left. Take UNH alumni Craig '73 and Linda Labnon Rydin '71, for example. Both the Rydins and Labnons go back several generations in the North Country; mention either family today and the recognition is instant. Linda's mother and Craig's parents still live in the Berlin area, where the senior Rydins are regularly out and about in the community. Linda's parents used to run the popular Town and Country Motor Inn, which remains in the family to this day. "We grew up in a Berlin that was Main Street-centric," says Craig, who describes a vibrant community with hundreds of mill workers and their families, a couple of department stores and a Woolworth's, with high school games and other community activities every Friday night. "Just like it is today," Linda says. "Everybody knew everybody." Indeed, Craig and Linda grew up a block apart and both worked at the Town and Country—but they didn't start dating until they were at UNH.
Today, the Rydins live in Avon, Conn., where Craig is chair of the Yankee Candle Company and sits on many corporate boards. Linda is actively involved in volunteer activities. Both believe they are who they are today because of strong family and community roots in Berlin. That made their decision to endow a series of scholarships for students from Berlin who attend UNH an easy one. "We wanted to show our affinity with, and respect for, where we came from," Linda explains, "and we wanted to show our support of UNH." Adds Craig, "Education is our number one priority when we talk about making charitable gifts."
When the Rydins decided to set up their most recent endowments, they went to Berlin High School and met with administrators, including vice principal Timothy Forestall '75, who grew up in Berlin and attended UNH with Craig. Principal Gary Bisson, another Berlin native, says, "You will not find more polite and well-behaved students anywhere," a boast backed by the numerous good sportsmanship banners and trophies prominently on display. More than half the school population in Berlin qualifies for free or reduced-price lunches, which for a family of four is defined as a total annual income of less than $23,050. Many students come from single-parent households where the parent works two or three jobs to make ends meet. "Too many" students work after school, says Bisson, and many others care for younger siblings when they get home.
When the Carsey Institute surveyed 656 high school students throughout Coos County in 2009, 90 percent said they intended to go to college. This despite U.S. Census Bureau statistics indicating that only 16.1 percent of adults in the county—and only 10.3 percent in Berlin—hold bachelor's degrees.
Cory Osgood '11, who graduated with a degree in civil engineering, was awarded a Rydin scholarship four years in a row. He's stayed in the Seacoast area, working at Newmarket International, but goes back to Berlin as often as he can. Whether it's fishing with his dad on Lake Umbagog or taking the family dog for a hike on nearby Mount Success, Osgood loves Berlin. "Everything and everyone I care about are there."
Osgood traces his family's roots back at least five generations. His immediate family lives on the second floor of a triplex owned by his grandparents, who live on the first floor. An aunt and uncle live on the third floor. At Thanksgiving last year, he estimates that 35-40 people gathered for the meal, "and that was just on my Mom's side of the family," he says with a big grin.
Osgood's family worked in the pulp and lumber mills as far back as he can remember. His grandfather, now in his 80s, still fills in at the lumber mill when he's needed. Osgood says he is one of only three in his extended family who have a bachelor's degree. Only two—Osgood and a cousin—live "out of town."
His mother and father wanted him to attend college. "They were adamant about it," he says, "and they helped me as much as they could." Osgood contributed, too. "I always volunteered to work Sundays at Philbrook dining hall because it meant I could earn an extra dollar per hour," he says. Throughout his four years, it was the Rydin scholarship (along with support from a Blanchette scholarship and loans) that helped inspire Osgood and fueled his determination to graduate. Knowing that people like the Rydins believed in him and wanted him to succeed was empowering, a constant reminder of his roots in the North Country—a place where people are always watching out for each other, always ready to help. ~
Easy to print version
blog comments powered by