Cover illustration
by Byron Gin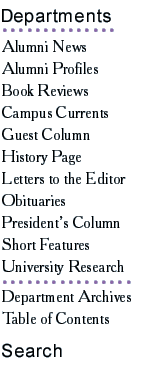 Courage Under Fire
(Continued from previous page)
In 1951, the New Hampshire General Court passed the Subversive Activities Act, which made it a felony to teach or advocate "doctrines tending toward the overthrow of government by force." In 1953, the legislature gave teeth to the act, authorizing state Attorney General Louis C. Wyman '38 to conduct an investigation into whether UNH or any tax-supported institution engaged in such "subversive activities."
Wyman took special interest in Daggett's association with Paul M. Sweezy, a Marxist economist and co-editor of the left-wing journal Monthly Review, who had addressed students in Daggett's humanities classes on three occasions. Wyman summoned Daggett and Sweezy to Concord for court hearings in 1953 and 1954, but both refused to answer some of his questions, maintaining that he had exceeded his authority and was violating their constitutional rights. Wyman filed a contempt-of-court petition, and a superior court judge ordered Sweezy and Daggett to answer Wyman's questions. Daggett complied, but Sweezy appealed the decision. Sweezy was vindicated in 1957 by a 6-2 decision in his favor by the U.S. Supreme Court. The ruling stated: "Teachers and students must always remain free to inquire, to study and to evaluate, to gain new maturity and understanding; otherwise our civilization will stagnate and die."
After the hearings, Professor Daggett distributed a statement to the media denying communist ties or advocacy of violence. "I have nothing to hide and have always believed that in a democracy political beliefs and activities should be openly expressed," he wrote. "An investigation into subversive activities has no business questioning a law-abiding citizen about his lawful political activities, his open professional life and his everyday opinions and beliefs."
Daggett also defended his teaching principles. "My own philosophy is a deeply democratic one. When in my American literature course I present Franklin, Jefferson, Emerson, Thoreau, Whitman, I probably reveal my enthusiasm. These men were among the first to express the deeply rooted belief in American freedom and human dignity, and I am thoroughly dedicated to them. But as a teacher I must remember to permit my students to think for themselves. My task is to teach them how to think, and to give them significant facts and ideas to think about..."
Phil Nicoloff, professor emeritus of English, who came to UNH in 1954, found the popular notion that the university harbored "dangerous radicals" a joke--that is, until he began to grasp the power of the state's ultra-right-wing conservatives. "It was a political necessity in the state to have William Loeb on your side and to be seen as someone who could rout out dangerous subversives," Nicoloff says. In his view, Loeb's constant drumbeat against Daggett made the professor a marked man and turned "baiting the university" into a popular sport. In this climate, Nicoloff says, the UNH administration was "incredibly sensitive about behavior or events that might be construed as politically radical or an attempt to radicalize students."
While Daggett was often called subversive, radical and even a communist by William Loeb and some of the state's politicians, those who knew him well described him as liberal, perhaps left wing, but not "narrowly political." Daggett joined the Progressive Citizens of America (PCA), a short-lived third party that supported former Harry Truman vice-president Henry Wallace in the 1964 presidential campaign. Wallace, who split with Truman over differences in foreign policies, was despised by the Union Leader's Loeb, who attacked him in 1947 as worse than "a cheap Nazi demagogue." Daggett admired Franklin D. Roosevelt, and the professor's politics, according to Nicoloff, "seemed to come from the New Deal. He was an old-time champion of the labor movement."
Wyman, now 84 and a retired congressman, reflects, "There was real fear during the Cold War, to some extent overblown by the antics of McCarthy, about the growing schism between the United States and the Soviet Union and the ensuing nuclear arms build-up." The investigations' focus on educational institutions stemmed from concerns about professors' impact on adolescents and youth, according to Wyman.
The contentious issue of Sweezy surfaced again in 1956, when student groups requested permission to bring him back to campus. The UNH Board of Trustees and President Eldon Johnson, as well as Daggett, were attacked by the Union Leader, Attorney General Wyman and then N.H. Governor Lane Dwinell '55H. The board initially rejected the request, but eventually agreed to allow Sweezy to speak, if he were paired with a speaker who represented an opposing perspective.

Easy to print version





Current issue | Past issues | Class notes
Department archives | Send a letter/news | Address updates
Advertise | About UNH Magazine | Alumni home | UNH home

University of New Hampshire Alumni Association
9 Edgewood Road Durham NH 03824 (603) 862-2040
alumni@unh.edu