Cover illustration
by Byrons Gin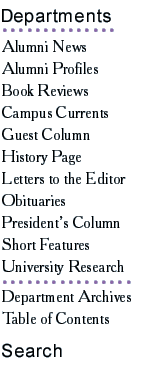 Courage Under Fire
(Continued from previous page)

Daggett joined colleagues in April 1966 in a protest march on Main Street in Durham. He is in the third line, wearing a light-colored jacket.





Faculty members brought the university's position in defense of academic freedom to the attention of the American Association of University Professors (AAUP). In 1958, the organization presented the board and President Johnson with its first Alexander Meikeljohn Academic Freedom Award for "resolutely maintaining the freedom of the university community to hear all points of a controversial issue, even in the face of public opposition." Recalling the hailstorm of criticism that accompanied the award, Johnson later quipped, "UNH should have received the Meikeljohn Award in 1959 for having the courage to accept it in 1958."

Respect for All

In private, Daggett agonized about the public controversies and the numerous threats made against him and his family. According to daughter Priscilla Daggett '57, he often feared losing his job. Despite these fears, she says her father felt compelled to act on his belief in free expression for all--particularly when he saw those rights under threat.

Daggett taught Priscilla and her sister, Barbara Daggett Merriam '57, to explore all sides of issues before forming opinions and to express themselves clearly and openly. "He had respect for everybody's ideas, even weird ideas, and for people of all walks of life," Barbara Merriam recalls. "It made him boil to see people put down because of their religious or political beliefs or their color. The more he observed, the more he saw injustice."

Fighting for social justice was a family tradition. Gwynne Harris Daggett was born in Berkeley, Calif., one of three children born to Royal and Josephine Sharah Daggett. The family moved often as Royal tried and failed to find satisfaction in various occupations. Josephine, a painter and intellectual, believed in social justice, and once came to the defense of a neighbor who'd been ostracized for befriending an African-American family. Her influence was strongest on Gwynne and his sister Dorothy (Eldridge), who became an international peace activist. Humanitarian beliefs and integrity also came from the Daggett side: Gwynne's paternal grandfather, Brig. Gen. Aaron Simon Daggett, believed in the abolition of slavery and fought in the Civil War in the 5th Maine Regiment, alongside African-American soldiers. Aaron Daggett, who went on to join the U.S. Army and fight in Spain, China, and the Philippines and receive the Purple Heart and the Gold Star. Like his grandson, he was known for his keen intellect and ability to find good in all people, even those who opposed him.

During the summers, Daggett left academe behind to take on demanding physical jobs. He'd hammer away on railroad tracks or dangle 60 feet above the ocean to paint bridges. Other years he unloaded cargo ships at Boston Harbor and hauled cable at the Portsmouth Naval Shipyard. "This gave him a greater understanding of people who do manual labor ... and it seemed to relieve him from the stress (of the university)," says Priscilla Daggett.

Priscilla recalls her father's "zany" sense of humor, his constant use of puns and love of language. "He wouldn't allow us to make grammatical errors, and when we did he'd 'burlesque' them to make it obvious. And he'd say the most hilarious things and just look at you intently without laughing, awaiting your response." She describes him as extremely cerebral, with broad interests that included classical and rock 'n roll music, cartography, and the natural sciences. Priscilla says her father was shy and reserved, but overcame his natural inclination to become a celebrated teacher with many friends.

When the sisters reflect on their father more than 30 years after his death, they think of his unflinching courage and compassion for people, his commitment to civil rights, his love of teaching, and perhaps above all, his humility. Once when Priscilla returned home as an adult to visit her parents, she recalls seeing her father, then in his late 50s, poring over books in his study late at night. "I asked, 'Dad, why are you still doing this? You're already a great teacher and you don't need to.' He looked at me with complete seriousness and said, 'Well, it's because I really don't know anything.' He was just very humble. He believed strongly in the Greek principle of hubris--that pride was man's greatest fault

A Gifted Teacher and Respected Colleague

Daggett's enthusiasm for teaching never wavered. He came to class with his sleeves rolled up high and demanded that students take part in lively discussions. Students of all majors lined up to take his courses.

Robert Edgerly '55 compares Daggett's approach to Humanities 101 to that of "a talented chef spreading out a buffet of favorite recipes for invited guests. We'd listen to classical music, discuss pieces of literature and view paintings and sculpture together. But the centerpiece of the course was our trips to the Boston Museum of Fine Arts and the opera. ... which proved to us that the humanities were an essential element of a life well lived. It was a great gift for freshmen from small New Hampshire towns."

Easy to print version





Current issue | Past issues | Class notes
Department archives | Send a letter/news | Address updates
Advertise | About UNH Magazine | Alumni home | UNH home

University of New Hampshire Alumni Association
9 Edgewood Road Durham NH 03824 (603) 862-2040
alumni@unh.edu