Cover illustration
by Byron Gin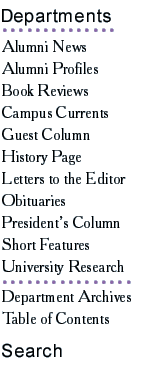 Courage Under Fire
(Continued from previous page)
Graduate student JoEllen Lindh Orcutt G'73, who spoke at the dedication of the Daggett Room in Dimond Library in 1972, recalled his teaching style. "In the middle of a discussion of one of Joseph Conrad's sea stories, Mr. Daggett was suddenly at the board, diagramming and explaining how to tack in a sailboat. The more rigid students stopped their feverish note-taking and looked up perplexed...but Mr. Daggett was bringing the story alive...bringing himself and what he knew to the work...and bringing many students with him." She also recalled her relief and shock at reading Daggett's thoughtful, detailed comments on her first paper, which he ended with, "I have learned something from this paper." "As a teacher myself, I have never forgotten his wonderful discovery," said Orcutt, "that I, a student, had something valuable to say."
Joan Burkholder '48, an English major who took five or six courses with Daggett, remembers him as a confidante to whom students turned for wise counsel. Years after her graduation, as she struggled to cope with young children and a military husband stationed far from home, she would often visit him in his office, where she'd find students lined up with the same intention.
Daggett also challenged students to examine current notions of conformity, according to Deb Watson '63, '67G. "He'd say things that weren't politically correct for the time, like when he pointed out that blacks were rarely depicted in literature in relaxed, positive ways. He showed us different ways of thinking and taught us that conformity is looking at life exactly as society wants us to do."
Civil Disobedience
The attacks on Daggett continued into the 1960s. In 1961, he was accused of conspiring with other "subversives" to incite students to commit illegal acts of civil disobedience. Gov. Wesley Powell had ordered a statewide civil defense alert on April 28 in practice for a nuclear attack, and citizens were required to take cover indoors. Graduate student Robert F. Kingsley '60 urged the student body to march down Main Street during the drill to protest against nuclear weapons. When the alarm sounded, more than 700 students, local and state police and members of the media packed downtown Durham.
Watson recalls viewing the events from the steps of Young's restaurant on Main Street. "When the air-raid drill went off, there were people standing in the middle of the street protesting, but it was really a peaceful protest. They just wanted to let people know that there wasn't any safety in hiding under your desk during a nuclear attack." Eighteen people were arrested.
The Union Leader learned that Kingsley and another controversial figure, Willard Uphaus, had visited Professor Daggett the night before the protest. (Uphaus, minister of the World Fellowship Center, had recently spent a year in jail for refusing to give Wyman the names of those attending the fellowship's summer camp in Conway, N.H.) As Nicoloff recalls, Daggett warned the students that if they chose to march, they'd have to face the consequences. Though Daggett denied encouraging students to participate in the protest, he was castigated by Loeb and others, who pressured UNH to fire him and dismiss the student protestors. When Gov. Powell came to campus to discuss the issue, more than 1,000 students lined the walkway to Thompson Hall to cheer President Johnson as he walked from his house to the meeting. The trustees declined to discipline the students or fire Daggett, but instead reprimanded him for displaying a "lack of judgment ... which has been unfortunate and deleterious to yourself as a member of the faculty." The administration also withheld a pending salary increase and promotion from Daggett.
The Faculty Welfare Committee investigated the issue and discovered no evidence that Daggett had organized or incited the protest, but instead charged that the media singled out the professor for criticism. Pressure from the committee, as well as from the AAUP, eventually convinced the trustees to grant Daggett's raise and promotion to associate professor and to rescind their reprimand.

Easy to print version





Current issue | Past issues | Class notes
Department archives | Send a letter/news | Address updates
Advertise | About UNH Magazine | Alumni home | UNH home

University of New Hampshire Alumni Association
9 Edgewood Road Durham NH 03824 (603) 862-2040
alumni@unh.edu