Cover illustration
by Byron Gin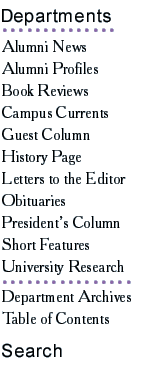 Stephen Tewksbury '93 in Les Misérables. Photo by Joan Marcus
Curtain Call
Act I: Boy goes to college and discovers musical theater. Act II: Boy meets girl during summer stock, gets big break, heads for Broadway. Act III? "I'm aiming for television. ... We'll see what happens," says Stephen Tewksbury '93, whose career has hit a comfortable stride with his current role as one of the leads in the traveling production of Les Misérables.
Act I began at the University of New Hampshire, where Tewksbury discovered musical theater with help from professor Carol Lucha Burns. "If you know Carol ... and you're tall, can sing, and there's a chance you can dance, she'll snag you," says Tewksbury. He was all of those things, and got snagged for the role of Pippin his freshman year. But it was his portrayal of Jack (of Beanstalk fame) that first gave Lucha Burns an inkling of Tewksbury's talent. During production, she noticed his scarf kept disappearing. "Stephen explained Jack would do that--leave a scarf in the woods and then refind it at some point. I knew then that Stephen would be more than just a singer, he had become a thinking actor who developed an offstage life for his character," Lucha Burns says.
After graduation, Tewksbury stayed in his home state starring as Tony in West Side Story and appearing in Little Shop of Horrors at the Seacoast Repertory Theatre in Portsmouth, N.H. To pay the bills, he worked as a lifeguard at a Seacoast water park and for a beer distributor. Next, he took to the road in a caravan production of A Christmas Carol, playing Scrooge's nephew. At this point, he felt ready to try his luck in New York.
But Tewksbury's career trajectory hasn't been as rote as following a script. "I freaked out. I hated it in New York. I didn't know anyone," remembers Tewksbury. And so, when the call came from the Weathervane Theater in Whitefield, N.H., he jumped at the chance to leave the city just three months after arriving. Tewksbury landed 10 lead roles in his three seasons with Weathervane. He also met his wife, Kim; she worked as a scene painter one summer.
By 1996, armed with the right connections, it was time for New York, round two. Tewksbury juggled acting and odd jobs until his first big break, a television commercial for Pizzeria Uno. Soon afterward he landed a Broadway role in the ensemble of Miss Saigon. He also covered one of the leads, which he played often during his three-and-a-half years with the show.
During Miss Saigon's long run, Tewksbury mastered the most challenging aspect of musical theater. "It's hard to keep it fresh night after night," he admits. "I keep my backstage show going--playing poker and video games, hamming it up, running out to catch my scene at the last minute. It's a lot like hanging out at the firehouse."
He's doing something right. When the curtain goes up and Tewksbury takes the stage as the fervent Enjolras, leader of the student revolution in Les Miz' 19th-century France, his velvet tenor takes you to the front lines. He makes you believe. He makes you curious to see what surprises his third act will hold.
--Carol Connare '88
Return to Alumni Profiles
Archives of Alumni Profiles
blog comments powered by

Current issue | Past issues | Class notes
Department archives | Send a letter/news | Address updates
Advertise | About UNH Magazine | Alumni home | UNH home

University of New Hampshire Alumni Association
9 Edgewood Road Durham NH 03824 (603) 862-2040
alumni@unh.edu