Cover illustration
by Byron Gin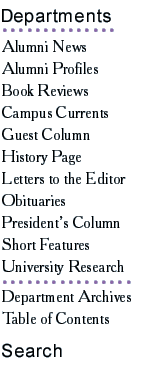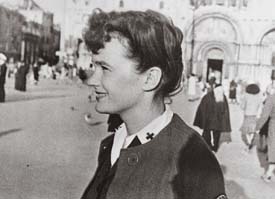 Christine Fernald Sleeper '38 during a stint as a Red Cross coordinator, Italy, 1944.
A Woman with Wings
Christine Fernald Sleeper '38 recently returned to her home in Herndon, Va., from a visit to Nepal, where she got "up close and personal" with Mount Everest's snow-capped peaks and breathtaking cliffs. Flying as a passenger in a 19-person aircraft with colleagues from the Kathmandu-hosted World Aviation and Safety Congress, the 85-year-old licensed pilot found the view from 25,000 feet "exhilarating." It reminded her of the days when she was at the controls, enjoying an aerial view of much more modest mountains in her native New Hampshire.
Sleeper, a Latin teacher at Herndon High School for 30 years until her retirement a year ago, trained to become a pilot in the early 1940s. With a B.A. degree from UNH, where she studied Latin and French, and a master's degree from Radcliffe College, she was working as a teacher at Pinkerton Academy in Derry, N.H., while attending flight school in Manchester--the only woman in a class of 20 student pilots. Every morning she would wake up in her Nottingham home, wondering what the weather was like. "I would lie in bed and look to see if the leaves were blowing, then decide if I would be able to fly that day," she recalls.
On the clearest days when she was aloft in her Piper Cub two-seater, she could see all the way from the White Mountains to the Seacoast. "I am always looking for a different perspective on things," she observes. "I loved the thrill of flying then, and I still do. It certainly gives you a spectacular view."
Sleeper earned her pilot's license in 1941, and with the U.S. entering World War II, she decided to put her teaching career on hold. She wanted to do something that would make a more direct contribution to the war effort, so she went to work as one of three female air-traffic controllers in Boston. "Our primary concern was getting the aircraft--mostly B-24 and B-17 bombers--safely to Europe," she explains.
Sleeper continued this work until 1944, when her need to get a different perspective led her to take a position with the American Red Cross, serving as a social activities coordinator in Italy, France, Austria and elsewhere. Although her work was on the ground, flying was still an important part of her life, and she continued to get airborne whenever she could. Appropriately enough, when the war was over she married a U.S. Air Force pilot who was also a UNH alum, the late Raymond Sleeper '38.
Sixty years after receiving her pilot's license, Sleeper remains an active member of The 99s, an international organization of women pilots whose membership has grown from the original 99 in 1929 to 6,500 today. She chairs the Washington, D.C., chapter and helped to establish a new chapter in Nepal while she was there.
Sleeper, who names Amelia Earhart--a founding member of The 99s--as one of her role models, believes it's important to encourage women to fly. She treasures her experiences flying a Piper Cub over New Hampshire, but she can only imagine what women fliers might experience today at the controls of a fighter plane, a commercial airliner or even the space shuttle.
--Tracy Manforte '92
Return to Alumni Profiles
Archives of Alumni Profiles
blog comments powered by

Current issue | Past issues | Class notes
Department archives | Send a letter/news | Address updates
Advertise | About UNH Magazine | Alumni home | UNH home

University of New Hampshire Alumni Association
9 Edgewood Road Durham NH 03824 (603) 862-2040
alumni@unh.edu