Campus Currents
Visit from a Floating Lab
by Amy Seif
A haze of heat and pollution turned the dark line of New Hampshire's coast into a soft gray blur as the research vessel Ronald H. Brown sailed toward Portsmouth harbor. With a length of 274 feet, the Ron Brown is the National Oceanic and Atmospheric Administration's largest ship. It spent a month in New Hampshire and Maine waters in July, offering its research capacity to scientists studying air quality in New England.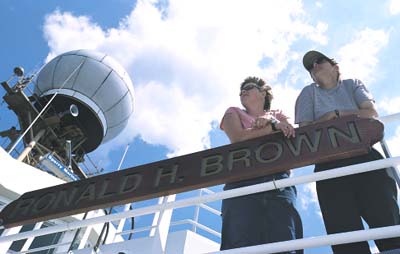 UNH graduate student Marcy Vozzella and researcher Sallie Whitlow spent a month researching air quality aboard the NOAA research vessel Ronald H. Brown, pictured above at a Portsmouth pier in July.

Photo by Lisa Nugent/UNH Photographic Services
"This is a rare opportunity," explains Robert Talbot, professor of earth sciences at UNH's Institute for the Study of Earth, Oceans and Space. "You don't get a large research vessel situated off the coast like this very often." Talbot is the director of the NOAA-UNH Atmosperhic Investigation, Regional Modeling and Prediction (AIRMAP) Cooperative Institute, the $10 million research project that is using the Ron Brown as a mobile platform for gathering data on air quality. This summer's mission, called the New England Air Quality Study, involved the Ron Brown, a research aircraft and a number of universities and institutions interested in studying the sources of pollutants and improving air quality forecasting.
During a tour of the ship, an officer led a group of visitors into one of the ship's laboratories. A graph on a computer screen showed air pollution levels for New York City, Boston and the New Hampshire seacoast. A scientist explained that the data didn't show much difference between the urban areas and New Hampshire. One purpose of the summer study was to collect information that might explain why the Northeastern states have some of the worst air quality in the country.
"A review of air pollution episodes in New England suggests that blobs of polluted air often lurk in the Gulf of Maine during the summer months, causing high pollution levels in coastal areas," explains Jim Meagher, a NOAA scientist. At a press conference held on a Portsmouth dock alongside the Ron Brown, UNH President Ann Weaver Hart announced an additional $12 million in funding for future studies of New England's air quality, thanks to efforts by U.S. Sen. Judd Gregg, R-N.H. Of the $12 million, UNH's AIRMAP project is expected to receive $5 million. ~
Easy to print version
blog comments powered by