Alumni News
Blampied Charts Ambitious Course
Over the course of the next five years, the new president of the UNH Alumni Association Board of Directors expects the association to play a more vital role in advocating for the university and in enhancing the lives of its alumni.
Douglas Blampied '60 sees a recently completed strategic plan as the vehicle for accomplishing that. The plan focuses on developing career support for alumni and students, increasing legislative support for UNH, building a stronger sense of community among graduates, recruiting qualified students, increasing revenue for alumni programs and publications, and enhancing university and alumni prestige.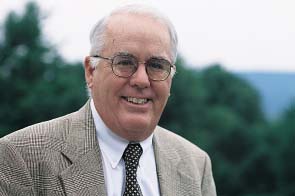 Alumni Association President Doug Blampied at home in Concord, N.H.

Photo by Gary Samson
For example, Blampied says, the Alumni Association will expand by one-third the number of legislative advocates--alumni living in New Hampshire who lobby their legislators to provide more support for UNH. On the career front, the association will increase the number of alumni volunteers willing to give advice on careers. Blampied will also focus on recruiting additional volunteers for the alumni admissions program and on arranging more parties at alumni homes, where high school seniors can meet alumni, current students and faculty members before deciding where to go to college.
Blampied also hopes to increase the number of dues-paying members of the UNH Alumni Association significantly over the next five years. There are currently 9,000 members. "Dues memberships support much of the programming the Alumni Association offers, so if we're going to expand services, we need to increase the number of participants," he says.
A national survey of alumni completed this past summer assessed the attitudes, interests and needs of the university's more than 100,000 alumni. "We want to create programs, events and products that graduates across the spectrum of age and interest will enjoy. The survey has given us the information we'll need to do that," Blampied notes.
Since the university has a new president, Ann Weaver Hart, Blampied plans to find opportunities to introduce her to the university's alumni and its traditions and culture.
He also sees a need for a symbol that would create a stronger sense of esprit de corps. A statue of the university's mascot, the wildcat, would build a sense of pride, he notes. "People could have their pictures taken there and they could touch the statue for good luck, much as they do at other universities," he says. "The wildcat would be larger than life, a symbol of greatness."
Blampied majored in economics at UNH and went on to a successful career in the insurance business, retiring in 1996 as a vice president of human resources at Chubb Insurance. His wife, Nancy Parry Blampied, and their daughter, Jennifer, both graduated from UNH, Nancy in 1961 and Jennifer in 1996. "My four wonderful years at UNH set the direction for my life," Blampied says. "Being president of the Alumni Association is a way to give something back."
blog comments powered by