Campus Currents
Remembering Sept. 11
They stitched, they sewed, they signed. Last year, UNH staff members, professors and students commemorated those who died on Sept. 11 with a quilt of remembrance. The quilt, made with 30 squares bearing personal testimony to the impact of the terrorist attacks, now hangs in the Memorial Union Building above the entrance to the Strafford Room.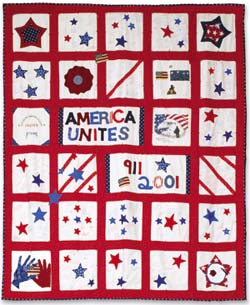 Photo by Doug Prince/UNH Photographic Services
The squares were worked by six staff members led by Gloria Vanbeaver, an administrative assistant in the Graduate School office who has since retired. Hundreds of students, staff members and faculty members signed the quilt, Vanbeaver says. "Everyone had their own response to the attacks. I thought that making a quilt would bring a great number of people together. I saw it as a quilt of hope and spirit and togetherness."
When the time came to plan a ceremony for this Sept. 11, the university used the image of the memorial quilt on invitations and posters announcing the event. Students, faculty and staff members gathered on the T-Hall lawn on the anniversary date for a ceremony and a moment of silence at 8:46 a.m., the time when the first plane struck the World Trade Center. The Durham Fire Department remembered the firefighters, police officers and emergency workers who lost their lives. In particular, participants mourned the four members of the UNH community who perished in the attacks: Jennifer Fialko '94, Judd Cavalier '98, Timothy Stout '83 and professor Robert LeBlanc '59.
Faculty members held a forum on issues related to the terrorist attack, including foreign policy and American diplomacy, civil liberties since Sept. 11, and the economic roots of terrorism.
"Remembering the events of Sept. 11 gives us an opportunity not only to grieve and memorialize, but also to ask ourselves important questions about where we go from here as members of a global community," says Michele Holt-Shannon, assistant director of student life and co-chair of the Sept. 11 planning group. ~
Easy to print version
blog comments powered by