Alumni Profiles
The Energy Thing
by Virginia Stuart '75, '80G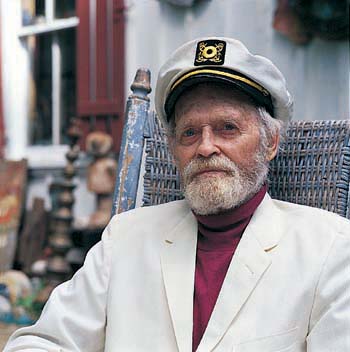 Richard "Boo" Morcom
Richmond "Boo" Morcom's first brush with fame--not to mention a famous person--came early. At the age of 19, he had already set the record for the highest pole vault in the state of Maine. He also had a trademark for high jumping with one shoe on and one shoe off and thus became known as "The Barefoot Boy." Before he knew it, the barefoot boy was pole-vaulting across Canada in a series of charity exhibitions with three other athletes--one of whom was none other than Babe Ruth.
Morcom entered UNH in 1940, served in World War II for three years and finished his degree in biology at UNH in 1947. An intercollegiate champion in the long jump, high jump and pole vault, he set a UNH record in the long jump that still stands today. As a sophomore, he won the national indoor championship in Madison Square Garden.
In 1948, Morcom competed in the Olympics in England. Although he was disappointed by his performance there, a week later in Belgium he bested the winning vault at the Olympics by six inches. In 1949, he took a job coaching and teaching at the University of Pennsylvania, ending his Olympic career. But his life of competition was far from over.
During 35 years of teaching physical education and coaching track at Penn, he often participated in college meets, and when the first international master's track and field competition for athletes over 40 was held in 1971, Morcom had found a new outlet for his competitive spirit. He began racking up records around the world, and became something of a celebrity. He appeared on the Bob Hope Show and met famous athletes like Jesse Owens, Wilt Chamberlin and Jackie Robinson.
In the heyday of his master's career--around the age of 65--Morcom could pole vault to 12'6," which was "as high as any New Hampshire high school boy could do at the time," he notes proudly. "I also used to run a couple of miles every day--sometimes so fast that people literally stopped to see if everything was all right. They thought there was an earthquake or fire or something." When you're going that fast, life can almost become a blur. "I would go to Canada, set a record, come home," he recalls. "My wife would have my bag packed, and 12 hours later I was in South America talking to Eva Peron." By way of explanation, he adds, "It's the energy thing."
He has applied that energy to a number of pursuits. As a coach, he is particularly proud of opportunities he gave to girls and blacks at a time when the playing field was far from level. He started a high school girls' track team in 1954, and saw to it that poor minority high school students could use the Penn athletic facilities. Morcom also coached the U.S. women's pole-vaulting team in the 1956 Olympics. "I've been to the games as an athlete, a coach and a spectator," he said in 1989. "Without a doubt, the best way to go is as a coach. You're into everything, part of everything, but without that terrible, terrible anxiety."
Now 82 and living in Sunapee, N.H., he still coaches track at Kearsarge Middle School in nearby New London. Two years ago, Morcom decided to stop pole-vaulting competitively. He doesn't seem to miss the fray: "I went to 105 different countries. I won records everywhere. I've been there, done that, got the T-shirt and caught malaria," he explains with a laugh. Now he's turned his attention, energy and competitive drive to producing artwork using paint, pastels and found objects. He goes to art shows instead of meets, and he's won a number of ribbons.
Still, there's one more meet he's looking forward to. "When we get to heaven, we'll have a track meet," he says with a smile. "And everybody will be young and strong." ~
Easy to print version
blog comments powered by