Alumni Profiles
Haiku Homer
By Clare Kittredge
Photo by Simon Biswas
Back in high school, when Cor van den Heuvel '57 played for a sandlot team in Dover, N.H., called the Comets, he'd leave his glove in the shady outfield when he came in to bat. Years later, his experience became a haiku:
in the outfield's / late-afternoon shadows / the coolness of my glove
Van den Heuvel's love affair with haiku started modestly. In the summer of 1961, for example, he took copies of his first haiku chapbook hitchhiking and freight-hopping cross country, trading Sun in Skull for hot dogs and potato chips, or a buck. Today, he has received international acclaim as a modern haiku master for his command of a poetry form born long ago in Japan. His latest book, Baseball Haiku, marries an art form and a sport he says are made for each other. Haiku is "a poem that records a moment of keen perception, in which nature is related to human nature," he explains, and baseball is closely aligned to nature, played on dirt and grass over the course of three seasons.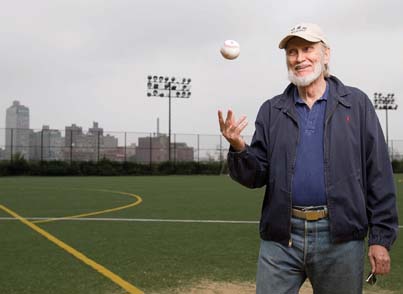 His interest in writing began at UNH, where he planned to study science but veered off into English. John Keats" poem "On First Looking into Chapman's Homer" and a short story by Irwin Shaw, "The Eighty-Yard Run," influenced him to think that "the secrets of life might be found in literature rather than in science." After graduation, he was working as a reporter for the Concord Monitor when he read an article describing a West Coast poetry Renaissance. Heading west, he heard poet Gary Snyder mention haiku at a San Francisco poetry reading. He has written haiku ever since. The year 1959 saw him reading at Café Zen in Ogunquit, Maine, perched atop a stool. He was employed as "house poet" in a Boston coffeehouse; read haiku backed by a jazz trio; worked on a fishing trawler by day and read haiku by night in a Provincetown bar. Later he married and had a career in page makeup at Newsweek for 25 years. In his parallel haiku life, he became president of the Haiku Society of America; his Haiku Anthology is now in its third edition. In 2000, he received a World Haiku Achievement Award, and in 2002, the Masaoka Shiki International Haiku Prize.

"Haiku, by its suggestiveness, makes you see the thing in front of you," he says. "You can reach out and touch it." As in: under the lights / hitting it out of the park / and into the night

Easy to print version blog comments powered by