Features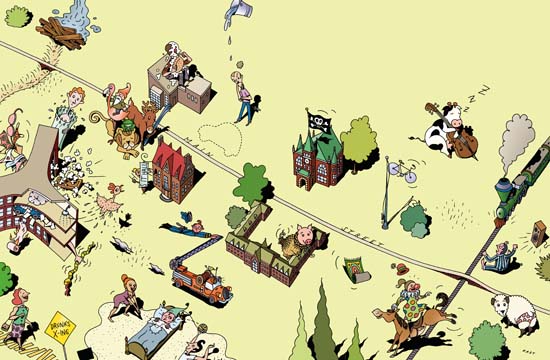 Click illustration for a larger version
The women of Stoke Hall's 7th floor had it coming. They'd had their fun, and now it was payback time. When one of the guys spotted a jar of chicken bouillon cubes in his room, he got a brilliant idea. Late at night, the men snuck into the women's bathroom and inserted several cubes into each showerhead. The unsuspecting women took showers in the morning as usual. Only as the day wore on did they realize that the aroma of chicken soup wasn't in the air—it was in their hair. Revenge was never sweeter.
When we invited alumni to share their memories of pranks at UNH, we discovered that there are perhaps as many motivations for playing a prank as there are pranksters. There's jealousy: "They didn't allow freshman boys at the ladies' tea." Irreconcilable differences: "She had hundreds of stuffed koala bears—I barely had room to move." And random temptation: "Unfortunately, the baby alligators my father sent me had died en route."
Yes, the justifications for playing a prank are legion. But the pranks themselves, both the classic and the contemporary, seem to follow certain recurring themes. We received nearly 200 reminiscences, and a fair number of them were actually fit to print. Here are some of our favorites.
If at All Possible, Involve a Cow
The definitive book on college pranks is titled If at All Possible, Involve a Cow, and at UNH, some of the earliest and most memorable pranks indeed involved a cow or other quadruped. In the 1930s, Alpha Gamma Rho brothers allegedly led a cow into the T-Hall tower, which is hardly bovine accessible. No explanation as to how they got her back downstairs was recorded. What is preserved, however, is a poem written by night watchman "Pop" Marshall in 1951 after he discovered a cow on the second floor of the music building, then Ballard Hall. It ends thus: "Now I'm willing to guard your property / And watch your buildings fine, / But teaching music to a cow / Is a little out of my line."
For other pranksters, maneuvering through campus with a pig in a poke proved challenge enough. During Freshman Week, Marty Hall '60 and some friends decided to let a pig loose in Congreve Hall. It wasn't exactly an original idea—one of the co-conspirators was the son of Dean of Students Edward Blewett '26, '67H, who had (his son revealed) performed a similar stunt back in the day.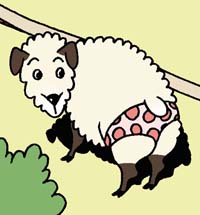 Down at the university barns, Hall says, even the "little" 100-pound pigs "were faster than hell and had way better traction in the mud than we did." The purloined pig, though trussed up in a bag, was much harder to convey across campus than expected, but the students managed to arrive at Congreve and release the pig in a dorm room. Then they dashed out and disappeared into the dark, unrecognized. Or so they thought. "Lo and behold, on Monday morning we were all called into Dean Blewett's office," recalls Hall. Yet the dean's reprimand—he did not expect to see them in his office ever again—was belied by a small but persistent smile. (In 1969, the university put a stop to "borrowing" live animals from the barns. Even though the animals had always been returned unharmed, it was explained that their removal from a controlled environment might invalidate research results.)
In the 1970s and '80s, about 20 Thompson School students lived and worked on a university-owned farm called Highland House. One day some male students slipped a sheep into one of the women's bedrooms. "The guys then took off, which was a mistake," recalls Beverly Briggs Westerveld '82. "The girls knew how to handle sheep. So they just grabbed it and put it in one of the guys' rooms." The kicker? "He had wall-to-wall carpeting."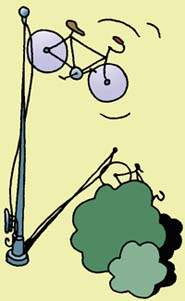 And what would a cow college be without cow patties? In retaliation for the old Corn-Flakes-in-the-bed-sheets prank, Peter Crabtree '64 decided to give his roommate's girlfriend a special "cake." He went to the UNH cow barn, where, he recalls, "I had expected that the actual 'catchment' would be a matter of strictly self-service." Instead, a farm worker cheerfully brought him a perfectly round specimen in a box lined with sawdust, covered with colored sprinkles he just happened to have on hand. The masterpiece was later delivered to the girlfriend, who opened it in front of her sorority sisters, much to Crabtree's satisfaction.
Dude, Where's My Car?
Wheeled vehicles remained a perennial target of pranksters for decades. In 1937, two students helped rescue a fire truck from, oddly enough, a fire in the barn where it was stored. Feeling entitled to a joy ride, the pair decided to take the truck to pick up a girlfriend in Massachusetts. They made it as far as Newmarket before they were stopped by two stern state troopers and sent back to Durham. Bicycles have also been fair game. Two tall students, standing one on the shoulders of the other, enjoyed sliding tethered bicycles up and over a lamppost in front of Stoke and then leaving them on the portico above the dorm's entrance, reports Darius Ginwala '80. An anonymous alumna from the Class of '69 confesses, "I ran a bicycle up the flagpole in front of T-Hall—something I would never think of doing today!"
Easy to print version
Post your own prank below!
blog comments powered by