Alumni News
Expand Your UNH Network
Doc Z, Pet Therapist
In The Spotlight
Expand Your UNH Network
Online system allows alumni to volunteer and search for advice
When Jacquelyn D'Addario '95 moved to Washington, D.C., a decade ago she found a few friends to give her advice on safe and convenient neighborhoods, where to shop and how to get a job interview. "I remember thanking one friend who had helped me tremendously, and she said, 'Just remember to pay it forward one day.'" When D'Addario heard that the UNH Alumni Association would be launching online alumni networks, she was immediately interested. "What she said stuck with me."
Nokia manager Jay Slattery '01 recalls "quite clearly how difficult it can be for a student to build a network of business contacts." He's more than willing to provide career advice on the telecom industry through the new alumni networks.
"As a small business owner," says Scott Aronson '92, "I'm interested in developing new alumni contacts and in looking for specialized talent to join our firm. I trust the reputation of UNH."
Helping alums like these to network with other alumni is the purpose of three new online alumni networks: the Career Mentor Network, for career advice; My Town, for relocation tips; and the Business Network, to list or find businesses.
Christopher Gullotti '88, a financial planner and investment manager, says he was "lucky enough to get help from a variety of sources when looking for career advice, and I've always tried to make myself available to people who might have the same questions I had."
He'll check out the Business Network, too. "It's interesting to find out what people are up to," he notes, "and all things being equal, wouldn't you rather support a UNH-related business?"
The system allows users to search or sign up for one or more of the networks, which are secure, free and open to any UNH alum or student. The networks are located on Wildcat World at www.alumni.unh.edu/network/.
Doc Z, Pet Therapist
Jerilee Zezula wins alumni public service award
by Mary Peterson '73G
It could be said that Jerilee Zezula's remarkable career of service--as a veterinarian, associate professor of applied animal science, and vigorous advocate for animal welfare--was ignited in the sixth grade by a wayward cocker spaniel.
Little Blackie would disappear regularly from their yard in Kittery, Maine, and then reappear. One day, however, he did not come home. Zezula's family was devastated. Finally, the Animal Rescue League in Boston called. The police had found Blackie in Brighton, Mass., and traced him through his dog license.
At the urging of her sixth-grade teacher, the young Zezula wrote about the incident for the local newspaper. She recalls that the article was reprinted "everywhere" and she was interviewed by reporters and photographed with her dog.
It was a public and personal recognition of what was to be a lifelong passion. Animal care became the focus of her career, and her work in outreach programs was recognized last year with the Alumni Association Excellence in Public Service Award.
When Doc Z (as she is affectionately known by her students) came to UNH in 1979 to teach in the small animal care program, "pet therapy" had just arrived. "The nursing homes were calling shelters, wanting animals that could be brought for a visit. The shelters contacted me to see if our students wanted to do it. Our students were already being taught to evaluate animals for health and temperament, so we got involved," she says.
Zezula became the creator of ElderPet in New Hampshire. In addition to providing pet visitations, the program offers support, assistance and counseling to senior citizens and people with disabilities who would like to own, or already own pets.
In the early 1980s, realizing that animal control officers were undereducated and often frustrated, Zezula became one of the founders of the New England Animal Control Humane Academy. This nonprofit organization meets each summer for a week at UNH to provide guidance and training.
"The program offers courses in animal law enforcement, disease control and dealing with animals," says Craig Petrie, animal control officer for the Rutland, Vt., police department, "topics that we wouldn't get anywhere else in New England."
In the Spotlight
Seventies Reunion
No way has it been 30 years!
by Rachel M. Collins '81
They remember when the first floor of T-Hall housed the school's mainframe computer, when calling home meant standing in line on a Sunday night at their dorm floor's only pay phone, and when high tech was an electric typewriter.
But for those planning UNH's reunion of the '70s decade, those were the days. "They were great years," says Mary-Pat Horan Gibson '73. "Absolutely," says Paul Briand '75."I wouldn't trade them for anything in the world."
Gibson remained active with UNH for the first 10 or so years after graduating, and then life intervened. "My energies got placed in other areas, like my kids, my kids' schools and their education," she says."I think that's the case with a lot of alums--our focus got turned elsewhere. But now is a good time to reflect back on the years we had here, how they impacted our lives and how really great they were."
The reunion committee is optimistic that many of the 39,000 who graduated with or between the classes of 1970 through 1979 would also like to reminisce and celebrate their college years, and will mark their calendars for the '70s "Stayin' Alive" Reunion on Oct. 12-14 during UNH's 2007 Homecoming Weekend.
They've already nabbed alums like New Hampshire Gov. John Lynch '74 and UNH men's hockey coach Dick Umile '72, who both plan to attend.
In fact, any time Martha Foley Jackson '76, '96G, co-chair of the reunion committee, happens upon graduates from the decade of flower power and Watergate, she hands out bright green invitation cards.
It helps that the committee sent out an e-mail "blast" to some 4,500 graduates who had already visited the alumni web site, many of whom have responded by visiting the reunion site at www.alumni.unh.edu/seventies or have e-mailed 70sdecade.reunion@unh.edu to say they'll attend Friday's opening reception, Saturday's tailgating before the football game, musical review and dinner and dance at the New England Center, or Sunday's brunch.
They are signing on to come back to the campus that was their temporary home in the '70s, a turbulent but memorable decade. While some details may be best left to the oblivion of time (leisure suits, for example) the rest should be fun to recall.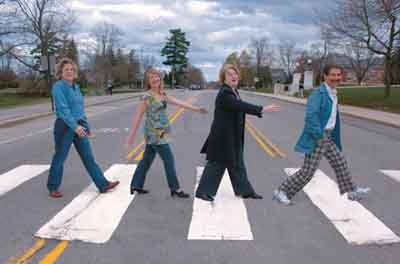 ABBEY ROAD, DURHAM: Committee members cross Main Street Beatles-style. From left, Ann Donoghue Dillon '75, Leslie MacLennan Tommasi '74, Nancy Scannell Hamer '74, '88G and John Tommasi '74, '80G.
blog comments powered by