Web Extras
Also read the winning story, "Characters All," by Gerald M. Carbone '82 and the 1st runner-up, "When the Pears Are Ripe," by Rosalie Davis '79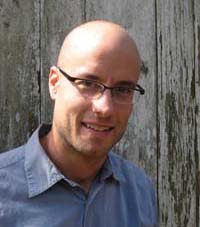 The Third Place Winner
UNH Magazine Spring 2010 Fiction Contest
(Contest judged by Alice McDermott '78G)
In "The Big Light" by Nathan J. Fink '11G, the reader learns what happened to the narrator's shell-shocked medic wife. McDermott liked its "wonderfully assured voice and a fine sense of the visual." She adds that it "succeeds very well in—to paraphrase Conrad—making us see. Conrad also comes to mind in its depiction of this journey into a kind of Heart of Darkness." Fink is earning an M.F.A. in Creative Writing (Fiction) at UNH. He earned a bachelor's in English from the University of Wisconsin-Oshkosh. He has been published in the Wisconsin Review, Eklectica and Black Bird Magazine. He lives in Rye, N.H.

I have to tell my wife it's just a thunderclap, a far off scrap of sound booming the sky overhead. I use my palm to steady her, knead where her shoulder blades hook below the sheets, but she's dreamt herself away from here, lying, I know, somewhere in a desert. It's just as well I go to back sleep.
What the news stations report is that she and four other soldiers were motoring east while their Humvee whipped up a long tail of dust. A British woman, with bangs like brown slag, fills the television with her talk, saying the platoon, Bravo Company, 126th, was scouting a parched scratch of earth near Pakistan when it vanished. On screen are headshots of the unit—my wife is second from the left, hat set forward, hair drawn tight, fastened, and now it's the British woman again. She's on site. There, she says, her arm outstretched, see the break in the mountains? Sure enough, I'm thinking. Beyond her finger rises a cathedral of stone, and if I look closely, a small notch, blue with the bluest curl of atmosphere.
She doesn't say, however, that my wife wanted to be a sculptor. I've seen her, she's good. We met in a ceramics class at Lakeland, one of those Tech schools slap-dashed in a grassy field, this one in eastern Wisconsin. Art—I might've drowned myself for embarrassment. Biweekly, for three credit-hours, I mangled candy dishes, bestowed oblong lids upon maybe sugar bowls; a cow I plagiarized from the real-deal outside the window could've been a propane tank. Who in their right mind requires Art of a computer programmer? Lakeland. Really, it wasn't that bad. Most of the time, I admired a woman across the room, who could, miraculously, I thought, free a human face from a knot of clay. A real talent, my wife.
We went out a few times. Nothing serious. She once recruited my help shoeing replica horses mid-gallop. Another time, junior year it must've been, she arranged thousands of green army men as leaves of a great oak. We lived together at that point, in a drab little farmhouse with crooked doorframes and three generations of raccoons. But that's a different story—a funny story, actually, we get married in that story. This one, however, takes place in Afghanistan, long after some college advisor needled her: Why Art? he said, you'll never make money. It's true, she said and signed up for ROTC. She'd be a medic. She'd work with her hands, make hazard pay. She told me all about it that first night we met for drinks down at the Elbow Room. The world needs nurses, she said. And free tuition, I said, better than pushing a cursor around some computer screen. She laughed, said, no way, not me; that I couldn't endure.
I may have proposed a toast. To belief—to what people believe when necessary and how much they can stomach thereafter. My cramped apartment, say, that we couldn't yet know we'd share a year later; then, the farmhouse rolled up in some mossy hills. And after we settled into married life, when finally her orders to report came, we endured them a cappella—war, we sang, what is it good for!
Truth be told, it was for her hands she feared most. Let them take anything but these, she said, holding them up like soft, pale trophies. It was a Monday and a skin of morning light livened our bedroom. The following afternoon she'd report to Fort Bragg, North Carolina, be briefed then ship out, so we did what we could. We drank a handle of gin and made love—the ravaged, clingy kind, don't go love, but she was already gone, so whatever I held was strictly out on loan. Property of the US government, she joked, and cupped half-moons of her breasts. When she left, I let the television blare nonstop, scoured news networks for mention of Kandahar, Kabul—all things Afghanistan.
Today, now I mean, with my wife on leave, in bed at home, news is reflex. News is 3 a.m., a British woman and a knick in the rock—there, the woman's saying, people have their questions; they have a right to know what happened.
Easy to print version
blog comments powered by