Features

Be Still My Heart


Page: < Prev 1 2 3 4 Next >



On Aug. 7, the team reached the eastern end of South Indian Lake, having been repeatedly battered by cold, wet weather. They had traveled a total of 57 days and 900 miles, but the toughest section yet lay ahead —300 miles of the wild lower Churchill, on portions of largely unexplored river. Jones was suffering from flulike symptoms and demoralizing bouts of diarrhea and stomach cramps. "Food continues to dominate my daily thoughts, no matter how hard I try," he wrote.

As they portaged near South Indian Lake, they met two people who warned them not to proceed down river. They were approaching Class V rapids—the next-to-highest danger level—which today are considered navigable only by advanced, experienced kayakers. Jones remembers that one of them, a young geologist, told them it was uncharted, and foolish to go on. "We listened, but we felt we knew what we were doing," says Jones. "We were confident we could pick our way down."

JONES' JOURNAL has been a constant reference for him in recent years. The detailed 90-page notebook shows a resourceful and ever-maturing expeditionary group, but also one that was exhausted and malnourished at a point when they were about to be most exposed and tested. Once they committed to that last section there was no turning back. In the final week, they would face the harshest weather on the trip and the most grueling portages. As they struggled against cold winds and waves of rain, Jones wrote, "This trip is getting to be more and more like a nightmare."

That entry was written on Aug. 13. The following day, the weather was promising. In a series of successful maneuvers, they portaged, walked empty kayaks around obstructions and ran multiple sets of rapids. After lunch, they scouted a turbulent stretch that led to a spot called Mountain Rapids. They planned to paddle close to the shore, then exit the river for the portage around the main rapids.

McAllister went first, followed by Jones and Levesque. As Jones remembers it, he knew he was in trouble almost immediately. "I misjudged the speed and strength of the current," he recalls. "I paddled to beat all hell, but it was useless." Jones ran into a wide ledge in front of the rapids. After ramming the rock, he lost his balance and capsized.

McAllister, having made it to safety, tried to reel Jones in, shouting at him to grab hold of McAllister's boat and kick for the shore. But neither man could overcome the strong pull of the racing current. The river had a firm grip on them, quickly pulling them towards the upper lip of the rough, heavy waters of the rapids.

With options running out, McAllister told Jones to let go and hang onto his own boat, yelling that he would be able to ride it out. Jones floated downstream backwards, hanging onto his kayak. Ice left over from the winter lined the banks; the water was 30 degrees. Out of the corner of his eye, Jones glimpsed Levesque, who had been trying to come to Jones' aid when he too capsized. Like Jones, Levesque was immediately drawn into the rapids. For a mile, Jones was thrashed in the booming Class V rapids, gasping for bites of air in the troughs of the 8-foot standing waves. He lost sight of Levesque.
CROSSING: Glen Levesque '70, left, and Geoff Jones '70 portage a loaded kayak around Granville Rapids, Manitoba.
At the bottom of the rapids, Jones was able to maneuver himself and his boat to the shore. He'd lost his paddle, and was dimly aware that McAllister was continuing on, trying to help Levesque. Somehow McAllister had not only stayed afloat but had made it through the rapids, a feat Jones described as "truly magnificent." Sometime later Jones saw McAllister returning along the shore. Frantically, they conferred. Neither of them had seen Levesque. "Dennis searched up and down the southern shore, covering every step, finding nothing," Jones says. McAllister told Jones to recover Levesque's boat, which McAllister had pulled onto a sandbar. But there was still no sign of Levesque. That night Jones and McAllister made camp on the rocky shore with what was left of their equipment and kept a fire burning brightly as a hopeful beacon.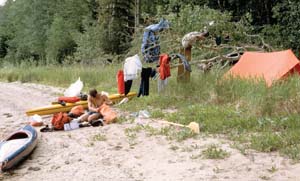 The pair spent three days looking for Levesque. As time passed, they reluctantly concluded he had drowned. Devastated, they also had to contend with trying to survive themselves. Food became an issue. In a chilling description from the journal, Jones recounted racing along the river bank at a dead run and grabbing two geese. "Like a madman, I broke both of their necks," he wrote, "almost tying one into a knot."

They supplemented their lone remaining paddle by making one from a hand-hewn spruce tree, and contemplated staying put and trying to signal a plane flying overhead. Ultimately they decided the only way they were going to get out and get help was on their own initiative. Jones recalls McAllister saying, "God helps those that help themselves." As they raced through the last stretch of river, they came across Levesque's gear strewn on the rocks, including his paddle and a rucksack containing a watch, money and logbook, heart-wrenching reminders of their lost friend.


Page: < Prev 1 2 3 4 Next >

Easy to print version