Features
Now We're Cooking


UNH interns help show that homemade food is better and cheaper





By Suki Casanave '86G


Easy to print version
Return to UNH Magazine features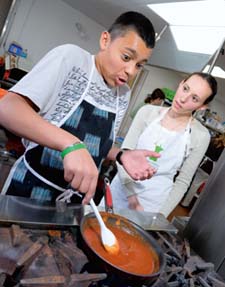 Lisa Nugent/UNH Photographic Services

Jeremyah Rivera stirs a sauce.
Victoria Lee pushes her big, rainbow-striped glasses back on top of her head and sniffs. "What is parsley, anyway?" she asks, waving a spice jar under her nose. She is standing with five other middle-schoolers around a shiny steel table in the kitchen at the Boys and Girls Club in Manchester, N.H. It's 3:30 on a Thursday afternoon and they're discussing, among other things, oregano, basil and parsley, trying to guess which one is which. They're also organizing ingredients for the healthy snacks they're about to concoct with a team of dietetic interns from UNH.
At one corner, a group of girls slice bananas, measure peanut butter and honey and lay out pita pockets to hold the sweet treat. Across the table, a couple of boys debate the fine art of cracking eggs as they prepare a crunchy crumb coating for homemade cheese sticks. Elvin Barbosa walks to the sink, grimacing, his hands dripping with raw egg, and intern Katie Ferguson '11 commiserates. "I get the stuff all over me, too," she says laughing. Elvin's friend Jeremyah Rivera, meanwhile, is cracking away. "Good thing we have an expert in our midst," says Ferguson.
The New Hampshire Food Bank's weekly Cooking Matters class—one of 200 offered around the state every year—is a bustling jumble of hands-on experience, how-to tips and nutrition facts: Keep the spoon moving as you stir the tomato sauce to avoid dark edges. Use spices instead of salt to add flavor. Beware of soft drinks. Becca Story '07G, program coordinator, pulls a string of sugar packets from a box—17 in all—to show the kids how much sweetener is in a single can of one of their favorite brands. Then they make their own healthier, water-based soda. "We focus on education—on information and skills," says Story. "But we supply food at the same time." At the end of each class, participants get to eat what they create, and they go home with several ingredients or a bag of groceries, which help provide a meal at home.

Lisa Nugent/UNH Photographic Services

MIXING IT UP: Katie Ferguson '11, center photo, teaches cooking skills to, from left, Victoria Lee, Elvin Barbosa, Jeremyah Rivera and Daniel Infante.
Known for its innovative classes and programs, the food bank, run by New Hampshire Catholic Charities, also tackles hunger through its massive distribution system, supplying shelters, food pantries, childcare agencies and senior centers throughout the Granite State. The organization serves more than 130,000 people each year, a number that has more than doubled since 2006. UNH interns, undergraduates and alums working with the food bank often find themselves face-to-face with the people behind these numbers—which is precisely the idea, according to Joanne Burke '01G, director of UNH's dietetic internship program. "Our whole focus," she says, "is on putting students into real situations with real people where they can make a real difference." Interns in the year-long program consider themselves lucky—just 10 applicants are selected from a pool of more than 100. UNH undergraduates, too, gain experience with the food bank—assisting with classes, preparing recipes and nutrition packets, and conducting surveys.
"What really attracted me to UNH," says intern Lisa Garcia, "was the emphasis on health promotion and wellness in the community—how to eat better and be healthy in a way that's good for the environment. This sustainability component makes UNH fairly unique among all the programs out there." Garcia, who has put in many hours volunteering at food pantries, calls lack of cooking knowledge a critical problem. "It's a root cause of our health issues," she says, recalling food pantry visitors who leave cans of nourishing beans and rice on the shelves. "If it's not something they can stick in a microwave, they don't pick it up," she says. "Yet home-cooked meals tend to be less expensive than processed foods—and healthier, too."
Food bank classes help get that message out. "We have more and more demand from agencies who want to provide this sort of education for low-income children, teens and adults," says Helen Costello '86G, manager of the food bank's Recipe for Success series, which includes Cooking Matters, along with a host of other programs. "And we couldn't do our job without our volunteers—including our UNH interns and students," she says. "Without them, it would be hard to meet the demand."
During a nutrition education class inside the food bank's sparkling commercial kitchen, Julie Hodgson '08, Cooking Matters program assistant, talks with a group of culinary training students about fat content, as Ferguson scoops Crisco from a can, adding dollops to a hamburger bun. When she reaches 16 spoonfuls, she stops and tops the towering heap of fat with the other half of the bun. Voila! "The Blubber Burger!" says Hodgson, who was both an undergraduate volunteer and an intern before being hired as part of the Food Bank staff. "This is what you're eating when you order a fast-food burger." Chuckling ripples among the dozen or so students enrolled in this eight-week course designed to help those desperately in need of a job—including a number of recently released convicts—get back on their working feet. Programs like this one are proof that food education goes way beyond nutrition facts. For some, it's a lifeline to a new beginning.
Lisa Nugent/UNH Photographic Services

EDIBLE AND EDIFYING: Becca Story '07G and intern Lisa Garcia make healthy snacks with Daniel Infante, Katelyn Barriere and Elvin Barbosa.
The Thursday afternoon class of middle schoolers is grabbing onto that lifeline early. When Hodgson asks who remembers the orange juice and whole wheat experiment from the week before, everyone starts clamoring, explaining how the white bread crumbled to a mushy mess, but the whole wheat held together. One girl proudly announces that she looked for whole grain bread when she was shopping with her mom during the week. "That's the coolest thing," says Hodgson, "when they can show their parents what they learned. And then when they cook together. We hear that quite a lot, actually—cooking is bonding time for these families."
Knowledge. Confidence. Family bonds. The fight against hunger, it turns out, is about more than supplying food to those in need—it's about nourishing lives in ways that make a lasting difference. When the class is over, as everyone is sampling their creations and celebrating their success, Jeremyah announces his plan to open a restaurant some day. Someone points out he's already off to a good start: he knows how to crack a mean egg, he's on his way to a killer tomato sauce, and, best of all, he can count on a slew of friends from his Cooking Matters class to show up for the grand opening. ~
Easy to print version
blog comments powered by