Letters to the Editor
Game Changer
I went to UNH with Robin Dixon '83 ("The Rebound Team," Winter 2012) and feel fortunate to call him my friend. Rob is a class act and has made a tremendous difference in the lives of youth in the Boston area. Kudos to him for his vision and his commitment to others.
Patrick Keeler '83
Concord, N.H. (Posted online)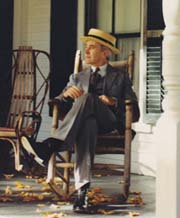 CALVIN: Jim Cooke '64 as Coolidge
John Quincy, Not Calvin
I liked the piece on Jim Cooke '64 ("Silent Cal Speaks," Winter 2012), although the photo showed him as John Quincy Adams, not as Calvin Coolidge. Jim and I are on the advisory committee of the Calvin Coolidge Presidential Library and Museum in Northampton, Mass., but this is the first time I realized he was a UNH graduate.
George Snook '48
Northampton, Mass. (By email)
Editor's note: Jim Cooke '64 as Coolidge, right.
Lasting Legacy
"Please Don't Breathe" was a fantastic article (Winter 2012). I proposed to my wife online ["Muppet Proposal," YouTube], and when we got married last year, we wanted something other than traditional wedding photography. We're both photographers and we wanted something personal and lasting that represented our passions and interests, so we decided to have formal tintypes done. Last October we met with Yige Wang [co-director of UNH's Confucius Institute] and spent the day with him. In the end, he produced eight 20- by 24-inch tintypes of us in our wedding outfits. Search for "Sara Prindiville Ceaser and Sid Ceaser" on Flickr to see the photos and a video of the process. I'm proud to be part of a group of photographers who still practice and support this method of photography.
Sid Ceaser
Nashua, N.H. (Posted online)
Arachnid Ardor, and Ambivalence
I absolutely abhor spiders, but I was so intrigued by Ed Tillinghast (professor emeritus of zoology, "Spider Man," Winter 2012) and the exhaustive research that Virginia Stuart did on spiders. Great artwork, too. And I loved the ending! I admit I'll never look at a spider the same way again.
Rachel Collins '81
York, Maine (By email)
What a wonderful and enlightening article! ("Spider Man," Winter 2012) It was fascinating to learn about the strength of spider silk and the potential future applications for it. I enjoyed how they stayed in the lab all night to see all the spiders consume their previous days' web all in unison at 4 a.m. I also really enjoyed Virginia Stuart's writing, including the final two sentences about being with the "two loves of my life" (one being a spider) and only kissing one them! It left me with a big smile on my face. Having been a writing student at UNH, I couldn't help complimenting the author as well.
Leslie Nichols-Ring-Burns '83
Essex, Mass. (Posted online)
A great article about the life and research of a very inquisitive man. My curiosity and fascination with spiders developed further after becoming acquainted with a UNH grad student who was studying one of the orb weavers and the composition of her web relative to the strength of steel. Thanks for this article—it's renewed my interest.
Carol Borg
UNH staff member (Posted online)
Your article about the "Spider Man" in the Winter 2012 issue was absolutely fascinating! Good for him for what he does.
Gail Monroe Powell '62
Homerville, Ohio
Mapping the Seafloor
I was most interested in the article "The Final Frontier" in the Winter 2012 issue of UNH Magazine about the mapping of the ocean floor in Alaska and beyond. I am glad to see UNH participating in this project with NOAA. I am familiar with the mapping project—my granddaughter, Annie Smith Raymond, now works for NOAA in Seattle, Wash. She spends time each year on NOAA's ship working on the same project in the Arctic area and returns to the Seattle office where maps are made showing the floor of the ocean and the continental shelf. She enjoys the work and keeps me informed with email and pictures. As a UNH alum, I think the project is very important for UNH, our country and the world. Cheers for UNH!
Thanks for your splendid latest issue!
Gladys McCrone Smith '45
Sun City West, Ariz. (By email)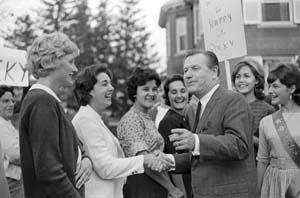 ROCK THE VOTE, 1964: Readers—including Beverley Learned Nemetz '67, Tom Foster '64 and Ingrid Willeke Palm '62—wrote to identify students greeting presidential hopeful Nelson Rockefeller. From left: Gudrun Willeke Pfendler '64 of McMinnville, Ore.; Barbara J. Jewett '64 of Elkridge, Md. (shaking Nelson Rockefeller's hand); Susan Ellis Swasey '64 of Chadds Ford, Pa.; Martha Huse Atkinson '67 of Monroe, Ga.; and Beverly MacLean True '67 of Hudson, Fla.

See a larger version of this photo.
Meeting Rocky
What a surprise to see myself in the photo at the beginning of Class Notes! I am the student on the far left. To my right are Barbara Jewett '64 and then Sue Ellis Swasey '64. The photo brought back a flood of memories.
Gudrun Willeke Pfendler '64
McMinnville, Ore. (By email)
What a delight to find my picture on page 42. I remember well meeting Nelson Rockefeller that day. I am third from the left—the smiling gal in the floral blouse! Gudrun Willeke '64 is on the far left and I am not sure of the others, although they are familiar. I have been living in southeastern Pennsylvania for many years, but always get back to UNH every summer while visiting relatives in New England. I remember well the wonderful four years I spent there from 1960-1964.
Susan Ellis Swasey '64
Chadds Ford, Pa.
blog comments powered by