Features
The First UROP Grant Recipients


Where are they now?





Return to The First UROP Grant Recipients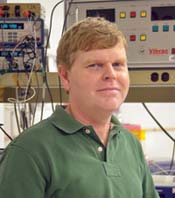 Colin Frost '88, '90G
Colin Frost '88, '90G
Major: mechanical engineering
Job title: Senior Research Engineer, Space Science Center, UNH
Hometown: Dover, N.H.
Colin is also a mechanical design consultant at Oyster Police Department. In the past he has been a Senior Mechanical Design Engineer at Hussey Seating Company and a senior consultant in mechanical engineering and product development at Arthur D. Little.
Colin has worked on the GroundWinds project at UNH, a NOAA-funded initiative to demonstrate the capability of "Direct Detection Doppler LIDAR" to measure wind velocities. LIDAR is an acronym for "Light Detection And Ranging." Read more at http://groundwinds.sr.unh.edu/.
He is also working on NASA's $1-billion Magnetospheric Multiscale (MMS) mission, including the critical and complex Spin-plane Double Probe, which is being built at UNH. Read more at http://www.eos.unh.edu/newsl_0311/sdp.shtml.
< Previous recipient
Next recipient >


Back to the '88 UROP stories
blog comments powered by