Web Extras
Out Front, Full Circle


Gay activists from the '70s get their pancakes, and their due







Easy to print version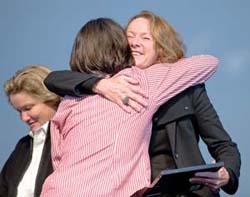 Ann Philbin '76 receives a hug.
Forty years ago, a small circle of friends fought for their rights as UNH's first recognized gay student group. On April 11, 2012, those 1970s activists returned to campus to see where their efforts had led. They took their place in the MUB amid other circles of friends, 260 people strong, celebrating the gay community's achievements at the university's annual pancake breakfast.
Today's activists and allies eat pancakes because in 1974, deep in a contentious battle for equality, the Gay Students Organization lost out on a pancake breakfast with the governor. Therein lies a complex tale of prejudice and court cases, friendship and ultimate triumph. (See Spring 2011 issue).
"We never expected to make history," said Wayne April '74, who filed the papers establishing the Gay Students Organization in 1973. "We were just a small group of people who wanted to get together and do something out in the open - which was itself a revolutionary act."
Not for a second did the '70s activists imagine that their legal fight would establish a national precedent still cited in students' rights cases today. Nor could they foresee that the trail they blazed would lead them back where they'd started, to a place that looked familiar but felt like another solar system.
The state that once feared contagion if gay students held a dance had just reaffirmed its support for marriage equality. The campus whose GLBT resources once consisted of an unacknowledged "gay table" in the MUB now found it perfectly normal for the university president to help hundreds of people celebrate "Gaypril."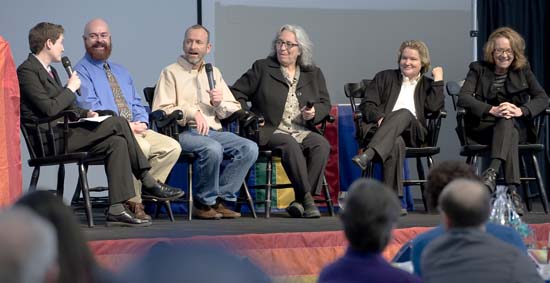 PANEL DISCUSSION: From left, Kelsey O'Neil '12, Richard Maxfield '75, Wayne April '74, Roma Baran '74G, Cris Arguedas '75 and Ann Philbin '76.
Onstage in the Granite State Room, Cris Arguedas '75, Roma Baran '74G, Richard Maxfield '75 and Ann Philbin '76 passed the microphone around with Wayne April as they told bits and pieces of their story. When they'd finished, the crowd rose in a raucous, whistling ovation.
"You've made a difference in the lives of countless students, faculty, staff and their families," Cari Moorhead '99G, associate dean of the graduate school, said as she presented the five alumni with the UNH Founders Award. "We can never thank you enough."
The alumni gazed out past their partners and friends at the center table (including Colleen McDonough '74) past the cheering 2012 crowd, and off to the distant 1970s.
Easy to print version
blog comments powered by