Campus Currents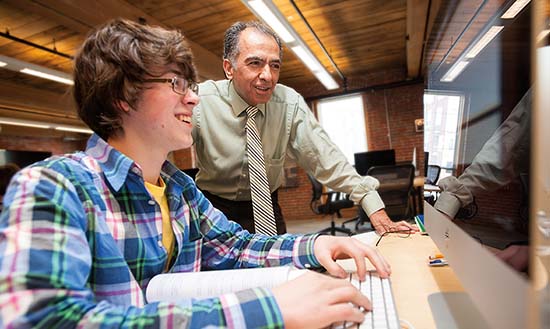 Perry Smith/UNH Photographic Services

FORWARD LOOKING Ali Rafieymehr, dean of UNH Manchester, checks in with Ezekiel Rosenberg, a junior at Manchester Central High School, as he works at the new Emerging Technology Center.
When Ali Rafieymehr first walked through the sprawling brick Pandora Mill Building in Manchester, N.H., he saw more than an empty, echoing historic space. He saw the future. "I saw an environment for our students not only to blossom, but to build a portfolio as well," says the UNH Manchester dean, a moving force behind the campus's new Emerging Technology Center.
The newly renovated building creates space—22,000 square feet of it—where students can put their heads together on real-world problems in the fields of science, technology, engineering, and mathematics—collectively known as STEM. Working with faculty members, nonprofits, and businesses, students get practical experience, as well as an opportunity to help the community. "This isn't only about solving problems," says Rafieymehr. "It's about making a difference."
Jola Leary '15, a sign language interpretation major, is developing a computer application to help underprivileged children with reading. Nigel Swanson '16 is at work on an application that uses rocket science to explain the dynamics of physics, a project he hopes will help attract high schoolers to STEM majors.
In fact, the center is part of a joint effort among the state's institutions of higher education to double the number of graduates in science and math disciplines by 2025. At the same time, businesses get help with projects. "The center will become a melting pot for students from all academic programs and a valuable resource for our business community," says center director Paul Bencal.
Rafieymehr is looking even further ahead as programs get underway at the center. Recently, he met with fifth-graders from Manchester's Beech Street School, who are taking a course on 3-D animation and computer programming. Working at the center has ignited their interest in science, according to principal Pat Snow. Which is just what Rafieymehr had in mind for the converted mill space. Watching fifth-graders at work, absorbed in technology projects, what he really sees are tomorrow's employees. He sees the future.
blog comments powered by