In Memoriam
Frederick B. Kfoury Jr. '64


He built his life on the rewards of hard work and generosity.





By Karen Tongue Hammond '64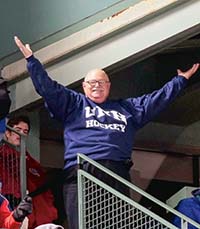 Fred Kfoury '64 loved his giant blue moose. The enormous papier-mache creature, signed by members of the UNH hockey team, stood watch in his basement, a prize from a charity fundraising auction. Kfoury, who died unexpectedly at age 70 on Feb.19 of an apparent heart attack, was an avid UNH sports fan. His son, Fred '84, says his father's ties to the university were so strong that he, his sister Christine '85, and his brother Matt '89 hardly considered other colleges. "We had been indoctrinated at countless football games," Fred says.
President of the Class of '64, Kfoury was on the committee planning the 50th Reunion coming up in June 2014. Whenever class officers met at his house, they feasted on lobsters, says Polly Ashton Daniels '64, class secretary and former director of alumni activities at UNH. When Daniels presented Kfoury with the Alumni Meritorious Service Award in 2004, she described to the audience Kfoury's "Tom Sawyer School of Philosophy": "Show them how, tell them what fun it is, and then let them do it!"
A Manchester resident, Kfoury was president of Central Paper Products Co., a family-owned business established by his grandfather in 1948. He guided the company through difficult times as large chain stores caused the demise of many independent businesses, and the digital era decreased the need for paper. "His work ethic was unsurpassed," says Matt, who, like his two siblings, worked alongside his father. "He instilled that in all of us, along with the fact that we should give back to the community."
Kfoury set an impressive example, serving on the boards of many local organizations, including the Manchester Housing and Redevelopment Authority, Keep Manchester Beautiful, Meals on Wheels, and the UNH Alumni Association. In 1998, he received Manchester's Citizen of the Year Award. He also received excellence awards from the National Paper Trade Association and the New Hampshire Business Review. Proud of his ancestry, Kfoury was also president of the American Lebanese Awareness Association, a group that raised scholarship funds for students of Lebanese descent.
His father was as frugal as he was generous, according to Matt—sometimes with humorous results. One favorite family story tells how Kfoury went to a large discount store and bought a jacket for $7. "He loved that jacket and was really proud of getting such a bargain," says Matt. "He asked his secretary to go back to the store and buy all the jackets they had and bring them to the local Salvation Army." The generous gesture was typical. Unfortunately, a short time later the zipper on his father's $7 jacket broke. "He had a new one put in," says Matt. "For $30."
Return to In Memoriam
blog comments powered by