The tears took her by surprise. Sasa Tang '11 was listening intently, struggling to follow the mix of rapid Arabic and broken English as her new Moroccan friend talked about her dreams—about how much she loved nature and animals, about her passion for conservation. The girl wanted to become a scientist. Her eyes lit up. And then, suddenly she was weeping, her face in her hands. Tang leaned forward, trying to comfort her. They were alone, sitting in a spare room in one of the country's government-run youth centers. The teenager had told her parents she was coming to meet with the Peace Corps volunteer from America so she could practice her English. It was a way to get out of the house for a few hours. It was also, it turns out, the first time she'd ever had a chance to talk with someone about her aspirations, her hopes for the future.
The girl dried her eyes and spoke again. She wasn't allowed to consider a career in science, she explained. Girls brought up in strict Islamic cultures get married young. They stay home. They take care of the family. She wanted to envision a different life for herself—but she couldn't see a path to get there. A university education? A career? "For her, this was an impossible dream," says Tang, her voice cracking with emotion. "She was heartbroken, but she was thanking me. She was so grateful to me just for listening to her."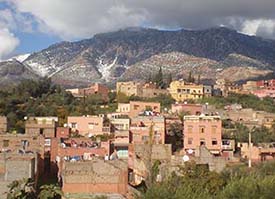 This moment and countless others like it—virtually invisible and impossible to measure—have come to define for Tang the most rewarding part of her job as a Peace Corps volunteer. "It's the thing that really touches my heart," she says. "No one encourages them—not even their parents. Just being a pair of ears to these girls who are so oppressed means the world to them." It's not only young girls who are struggling, Tang points out. "The Arab Spring—it's really about discontented youth. Both girls and boys have access to information, but there is nothing here for them to do. No jobs. They spend all their time on Facebook or watching TV or hanging out on the street. A huge generation is being wasted."
Tang, who was a dual major in political science and international affairs, has long been passionate about social justice issues. She did her senior thesis on nongovernmental organizations and the effectiveness of foreign aid. And she was active in a number of campus groups devoted to causes, including Oxfam UNH, the UNH Peace and Justice League, the UNH chapter of STAND (a national anti-genocide coalition), and the Alternative Break Challenge, during which she traveled to New Orleans twice to help with post-Katrina relief. "I want to be helping those who don't have a voice," she says, "those who are oppressed and don't know how to be heard."
But Tang's first Peace Corps placement, in a Moroccan town on the North African coast, pushed her to the breaking point. "The boys were bored and restless, and they were always harassing the girls," she says. "Since I'm Asian—the first ever in my town—I was even more of a target." Tang never traveled alone. But wherever she went, there were catcalls and constant grabbing. Whenever she left the house, she was followed by a crowd. And when the firecrackers started—thrown over walls and from around corners, exploding like gunshots—it became unbearable. "I was always afraid, always running," she says, telling of other girls with singed backpacks and clothing, and, tragically, one firecracker-related death.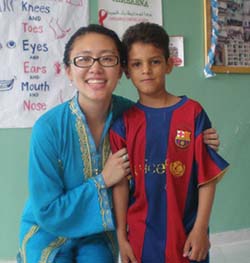 Eventually, Tang moved to a smaller village, higher in the mountains. "It was hard to transfer," she says. "I loved the girls and many of the people at my first site—but it became a safety issue." Now she has a second chance to experience life in Morocco. Tang is often invited for tea and couscous and is treated like the village daughter. She has become a fan of the weekly market, where vendors spread their wares across the ground. She has learned to love cumin and coriander, parsley and cilantro. And she has adjusted to the lack of privacy, falling asleep every night surrounded by her host family, everyone curled up on futons in the common room.
Tang also continues her work with teens. "I want to get them moving, caring about something, learning to use their time productively," she says, listing a slew of projects she's helping with, from building a soccer field to developing business skills to teaching nutrition education. She is also showing some of the girls how to knit, using recycled plastic bags to create trash-to-treasure baskets. As they work, they talk, practicing their English, telling their stories. Stories of quiet suffering and subtle abuse. Stories of outright violence. "I am trying to focus on self-esteem and confidence," says Tang, who is often haunted by what she hears. Less idealistic than when she first arrived, she is no less determined. Every day, knitting needles in hand, she begins again, teaching and talking, listening and encouraging, stubbornly believing that progress is possible—one stitch, one girl, at a time. ~