In Memoriam
The UNH community mourns four alumni who died on September 11
The events of September 11 had a profound impact on the UNH community, as they did on communities across the country. Four alumni, honored on these pages, died as a result of the terrorist attacks. Many students and faculty and staff members had other friends who lost their lives.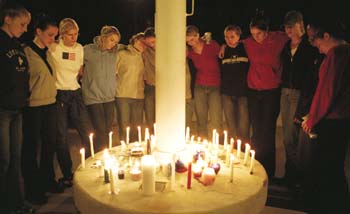 UNH students gathered at a candlelight vigil the night of Sept. 11, 2001.

Here on campus, we grieved, celebrated the lives of those who died and mourned with those who lost loved ones. Faculty members volunteered to hold weekly forums examining the complex issues raised by the attacks. President Joan Leitzel discusses the campus response in greater detail in her column on page 3, and three faculty members reflect on Islam, terrorism and U.S. foreign policy in Colloquium, beginning on page 16. Click for more information on the impact of the terrorist attacks on UNH alumni.

UNH alumni lost in the Sept. 11th attacks:

Judd Cavalier '98
Jennifer Fialko '94
Robert G. LeBlanc '59
Timothy C. Stout '83


Judd Cavalier '98

During his freshman year, Judd Cavalier '98 pledged Sigma Beta Fraternity. It was through the fraternity that I came to know him. For several semesters he was the house chef. Six nights a week, he dutifully prepared dinner for 30 hungry, impatient and generally ungrateful guys. His dinners were some of the finest meals ever to be served to the brethren of Sigma Beta.

In 1996, Judd took the spring semester off to pursue a skier's lifestyle and explore the Rocky Mountains with another UNH alumnus, Roger Odoardi '98. They set up shop in Vail, Colo., where Judd promptly discovered his natural affinity for retail sales. He made his bread and butter by fitting and selling top-quality ski boots to tourists and locals alike.
In June 1996, Judd and Roger decided to return to the East Coast and finish their college educations. They hopped in the beat-up Dodge Caravan, which was an unforgettable icon of Judd's college days, and drove straight home, 28 hours. I can just see him, driving across the country--windows down, Steely Dan blasting on the stereo, and making good time as he cruised home.
Judd returned to UNH and rented a house with Roger and me. It was a large house in a quiet neighborhood, and upon moving in, the three of us set out on the first order of business: procuring a pool table. After a week of searching the classified ads, Judd located a great table for sale from some guys down in Boston. The tribulations involved in driving to Boston, dismantling the 1,000-pound slate table, loading it into the tired Dodge Caravan and shuttling it back to New Hampshire are legendary. Judd spent days assembling it and then was able to boast about being the only guy in college to have his own full-sized slate billiard table right in the living room. The pool table was a magnet for the fraternity brothers. Judd would come home from class or Shorty's, the Mexican restaurant where he worked, only to find six or seven fraternity brothers gathered in his living room shooting pool and watching sports on Judd's TV. After his senior year, Judd donated the pool table to the Sigma Beta fraternity house, where it remains.
Judd got a summer internship at Sandler O'Neill and Partners, an investment banking firm, in 1996. After proving his abilities as an intern, he was offered full-time employment after college. He moved to New York City in 1998 and lived with a few of his childhood friends from Long Island. One of these roommates was his lifelong friend Joseph Anchundia, a great young man whom Judd had helped to get a job at Sandler O'Neill. Judd and Joe worked together in the firm's bond-research office on the 104th floor of Two World Trade Center. That's where they were when the plane struck the building on Sept. 11. It's somehow comforting to know that they were together when they died.
A UNH alumnus, Eytan Gutman '97, was another of Judd's roommates. Eytan recently ran the Chicago marathon with five other UNH alumni--Steve Brooks '98, Adam Earle '95, Joe Landau '98, Adam Fennelly '97 and Jen Rosenthall Fennelly '98--in memory of Judd and Joe. They wore T-shirts with Judd's and Joe's pictures on them and received loads of cheers from the spectators. Eytan returned from Chicago to report that hearing so many people cheering was one of the best feelings he's had since losing his two friends.
--Jonathan "Nathan" Sloan '97
Editor's Note: Judd Cavalier was the son of Gerry and Linda Cavalier of Huntington, N.Y. He had two younger brothers, Brad and Andy. He majored in communications while a student at UNH.
Jennifer Fialko '94
Jennifer Fialko '94 used to remind her family that she'd been part of New Hampshire since before she was born.That's because her mother was pregnant with her the first summer they spent on Lake Winnipesaukee. Every year, the family would travel from River Edge, N.J., to Meredith, where Jennifer would spend the summer waterskiing and flying across the lake in her Boston Whaler. When the time came to choose a college, there was no contest. "Jennifer always had a burning desire to go to UNH," says her mother, Evelyn.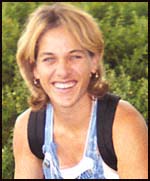 Jennifer majored in sociology and joined a sorority, Sigma Iota Sigma. From her freshman year, she had a major impact on those she met. Again and again, in letters to Evelyn Fialko and her husband, Bob, sorority sisters and others talk about what a good friend Jennifer was and how quick she was to help others. One sorority sister recalled that when her father died, Jennifer had rallied their UNH friends to attend the funeral, and how much that had meant to her. When another friend lost her baby, Jennifer visited her many times, bringing flowers, and encouraging her friend to get up and go for a walk.
At UNH, Jennifer studied Spanish and spent her junior year abroad in Granada, Spain, where she lived with a Spanish family. "I feel as though I've lost a sister," one member of the family wrote to the Fialkos after learning that Jennifer was among those killed on Sept. 11. Jennifer continued her interest in Latin languages after graduation, studying Portuguese in Brazil. "She would surround herself with tapes and books when she was learning Portuguese," her mother says. "She had a tremendous thirst for learning."
Two years after graduation, Jennifer was diagnosed with Hodgkin's disease. She endured seven months of chemotherapy and, her mother says, spent more time trying to cheer up her family and friends than worrying about her cancer. She discovered holistic alternative therapies, even starting her own natural oils business, and helped other cancer patients get through the ordeal of chemotherapy. If anything, friends and family say, the cancer made her stronger. "In a way, she saw it as a gift," her father says.
In August 2001, Jennifer's life was on an upswing. She had been cancer-free for three years. She had just met a man she felt was her soul mate. And she had started a new job in the client-service unit of Aon, an insurance company located in Two World Trade Center. She was in her office on Sept. 11. When the first plane hit Tower One, Jennifer ran across the 92nd floor to the west side of the building, where she could see what was happening. She then called her new friend, David, in Michigan. She was crying and told him that people were jumping out the windows of the damaged tower. David urged her to leave the building. That was the last time any of her family or friends spoke with Jennifer.
Jennifer's legacy lives on in her friends and family, they say. At the memorial service, Jennifer's pastor, John Danner, asked, "What would Jennifer want us to learn?" He answered it with a story:
"One day when Jennifer was in the throes of her cancer, having lost her hair and dealing with all the side effects, she said to me, 'If I should die from cancer, just let everyone know I don't blame God.' No matter what else we may say, I am sure Jennifer would feel the same way about all this. Don't blame God. I'm also sure she would urge us not to cave in to violence or anger. I'm sure she would want us to remember that ultimately it is in loving one another that we can find real hope."
--Maggie Paine
Editor's Note: A memorial fund has been set up in memory of Jennifer Fialko. Donations may be sent to the Jennifer Louise Fialko '94 Memorial Fund, UNH Foundation, Elliott Alumni Center, 9 Edgewood Road, Durham, NH 03824 .
Robert G. LeBlanc '59
I first met Bob LeBlanc in the spring of 1959, when he was a student in my course on the geography of Anglo-America. Evidently his interest in geography survived this experience, for he received the grade of "A," this in a time when an A was a mark of distinction, not an entitlement.
Bob joined me as the second geographer at UNH in 1963, and we worked together to establish and develop the program at the university. We were colleagues and friends for 38 years.
Bob was born on Oct. 28, 1930, in a Franco-American neighborhood in Nashua. Both his parents were French-Canadian, and his education began in French in Catholic schools. From early childhood, Bob wanted to see the larger world. He told me that as a young boy he often rode his bicycle to the railroad station to see the train from Montreal come in. In the 1930s, this was Nashua's most direct contact with the outside world, and it was also his link to his ancestral homeland.
After graduating from Nashua High School in 1949, Bob enlisted in the Air Force, which offered him a ticket to adventure and far places. In the following four years, he traveled all over the United States, as well as to Puerto Rico, Greenland and England. Bob fell in love with England, becoming a Franco-American Anglophile--a rare species indeed!
Bob was discharged from the Air Force in 1953 and entered the University of New Hampshire in the fall of that year. At UNH, he came under the influence of Donald H. Chapman, a respected glacial geologist, and he decided to major in geology. He took time out from his studies to work on a glacial research team in Norway and later spent the winter of 1957-58 on an ice island in the Arctic as a research assistant. Evidently this experience exhausted his interest in geology in general and in polar regions in particular, for he then changed his major to history and never returned to the Arctic.
After graduation in 1959, he entered the graduate program in geography atthe University of Minnesota, specializing in historical geography. He did well there, was named a Tozer Foundation Fellow in 1962 and won the first Ralph H. Brown Prize for the best publication by a Minnesota graduate student in geography the following year.
Bob's master's thesis was on the Acadian migrations, and his doctoral dissertation looked at the development of manufacturing in New England in the 19th century. These two themes were to characterize his work. For the first 20 years, he worked in historical geography. He then returned to his roots and concentrated on Canadian studies. He was active in Franco-American affairs, working with the New Hampshire Council for the Humanities and the Franco-American Center in Manchester.
Bob was also active in professional organizations. He was the founder of the Eastern Historical Geography Association and was also deeply involved in the New England-St. Lawrence Valley Geographical Society. He received the society's distinguished service award in 1988.
Bob never lost the enthusiasm of youth. He retained a zest for life and adventure. Bob was generous to a fault, always hospitable, even when he was an instructor and poor as a church mouse. The LeBlanc family was close and always welcomed people to their house in Lee, N.H. He leaves behind many friends as well as his beloved family: wife Andrea, sons John and Paul, daughter Carolyn, stepchildren Kjell Youngren and Nissa Youngren '99, two grandsons, sister Claire, brother Edgar and former wife Solveig.
Bob was one of the most optimistic people I have known. He refused to accept Murphy's Law that anything that can go wrong will. He believed things would come right. The world needs optimists like Bob.
Bob's death is a great loss for all of us. But I take comfort in the knowledge that he was doing what he liked best when he died--riding in an airplane on his way to a geography meeting. This time it was United Airlines flight 175, en route to Los Angeles.
--William H. Wallace, professor emeritus of geography
Editor's Note: The LeBlanc family has set up a memorial fund to honor Robert LeBlanc at the UNH Foundation, 9 Edgewood Rd., Durham, NH 03824. The fund will be used to establish a scholarship.

Timothy C. Stout '83
Tim Stout was a member of the UNH crew team in the early 1980s. I was captain of the crew team during Tim's first two years at UNH. I first met him when we lived together at the infamous crew house at 16 Young Dr., where many a crew party and potluck were held. Over the years, many fine people have lived at that fraternal crew house; Tim was one of the special ones.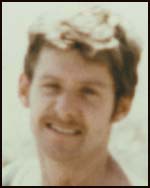 We could always depend on Tim's unwavering enthusiasm and ever-present positive attitude. He was the type of teammate you always wanted around. Saying someone always gave 100 percent can sound like a cliche, but in Tim's case, no one ever doubted his level of effort, for it was always obvious. Whether we were on the water at dawn or running up the stairs in Stoke Hall (usually to wake the few who didn't make it up for early-morning winter workouts), you could always count on Tim to be there right beside you.
The crew team was for Tim, as it was for most of us at that time, much more than a club sport. It was our lives, our family and our campus identity. "Crew team member" was the title we all earned and held with pride. And even though all my teammates were exemplary, there were, as with any group, those who quietly stood out. Tim might not have been the fastest, biggest or strongest, but he was always there--giving his all, improving himself, improving the team and inspiring all of us. Tim simply got up every day and participated with intensity. I know, because I was there. I lived with Tim, and I watched him.
On a daily basis, I witnessed Tim's unwavering love of the sport, his tenacity and his dedication to his teammates. He never wanted to let us down and always strove to improve himself. You never had to ask Tim for anything a second time. During six-mile runs in winter, his frozen-mustache smile and his enthusiasm were heart-warming and inspirational. Even though a captain might selfishly desire a boatful of rowers possessing Tim's tenacity and spirit, it was, in fact, this single spirit named Tim Stout in my boat for whom I was always thankful. Heaven's crew just got a whole lot better. We'll miss you, Tim.
--Fred Puksta '81

Editor's Note: Timothy Stout, 42, was a quality assurance specialist at Cantor Fitzgerald, working on the 103rd floor of One World Trade Center and living in Dobbs Ferry, N.Y. He is one of the 700 Cantor Fitzgerald employees presumed dead after the Sept. 11 attack. Stout was born in Boston, the son of Thomas and Elinor Stout, brother of Caroline Duncan and Jordan Stout. He graduated from UNH in 1983 with a B.A. in sociology. He was married to Maryellen Fanelli Stout; they had three children, Timothy Jr., 6, Mathew, 5, and Shannon, 4. Friends of UNH Crew has established a fund to buy a boat to be dedicated in Stout's name. Donations may be sent to Tim Stout Boat Fund, Friends of UNH Crew, UNH Field House, Durham, NH 03824. For more information about the fund, contact Fred Puksta '81 at fpuksta@monad.net. ~
blog comments powered by

Current issue | Past issues | Class notes
Department archives | Send a letter/news | Address updates
Advertise | About UNH Magazine | Alumni home | UNH home

University of New Hampshire Alumni Association
9 Edgewood Road Durham NH 03824 (603) 862-2040
alumni@unh.edu