Features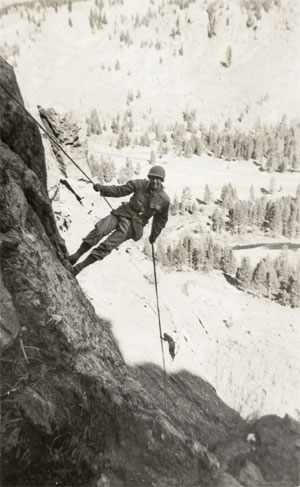 Richard Mansfield '49, '50G rappels down a cliff at Camp Hale, training for World War II service with the 10th Mountain Infantry.
Nelson Bennett '40 began his life on skis on a hillside dairy farm in Lancaster, N.H. As a boy, he would awaken at the crack of dawn to round up the cows for milking before heading off to school—and in the afternoons, he strapped the staves of a hogshead barrel to his boots and headed down the farm's snow-covered hills. By high school, he was making a name for himself on the Lancaster Academy ski team and the local winter carnival circuit; at UNH he competed in downhill, slalom, ski jumping and cross-country, the central disciplines of a sport still very much in its U.S. infancy.
By the time the dark cloud of World War II cast its shadow over the United States, Bennett had already graduated from UNH with a degree in agriculture and was head of the elite ski patrol at Sun Valley, Idaho. Drafted in December 1942 and recruited with his brother, Edmund, for the Army's Officer Candidate School, he chose instead to join the new 10th Mountain Infantry Division. A specialized "ski infantry," the 10th Mountain was modeled on a band of Finnish skiing soldiers who had repelled a Russian invasion in 1939 by outmaneuvering the larger force. With the war effort stalled in northern Italy, where the German troops were dug into position in the Apennine mountains and the Alps, skiing soldiers seemed like the Allied forces' best chance to break the stalemate and clear a route into Germany.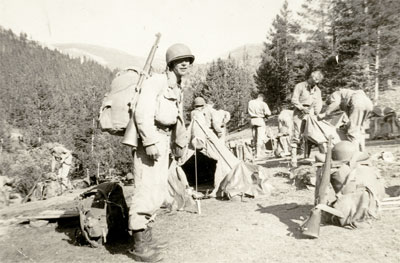 Mansfield, left, and his company at a mountainside training campground.
"Edmund and I figured the 10th Mountain was where we could do the most good, and had the greatest chance of surviving," he explains. But survival would prove be especially challenging for the 10th Mountain's soldiers. The training alone often turned out to be dangerously ill-advised. By the war's end, the division would suffer tremendous casualties, with 25 percent of its troops wounded or killed.
On the theory that it was easier to train skiers to become soldiers than the other way around, the 10th Mountain started its recruiting efforts with high school and college ski teams and the National Ski Patrol. Richard Mansfield '49, '50G was in his first semester at UNH when he heard the call to join the 10th Mountain. A chemistry major from Newport, N.H., he was just settling into the groove of life in East Hall, juggling homework assignments and hours in the chem. Lab with ski team practices on Beech Hill, when he put down his books to enlist. Richard McCrudden '48, Francis Crowley '49, Curt Chase '44 and Thaddeus Thorne '51, a high school senior and skiing standout, all joined as well.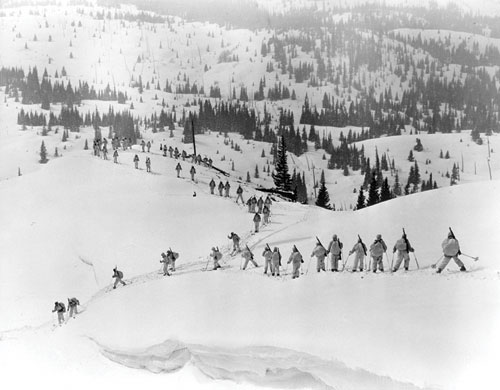 Not all 10th Mountain solders arrived at Camp Hale as skiers. Later recruits were taught to ski by their fellow soldiers. Photo copyrighted by Denver Public Library.
All told, more than a dozen UNH students and alumni joined an eventual corps of some 14,000 skiers, snowshoers, mountain climbers and outdoor enthusiasts who would be sent into critical battles at Riva Ridge, Mount Belvedere and della Torraccia in hopes of hastening the end of the war. But first they had to survive the very training designed to prepare them to fight.
"Camp Hell"
In 1942 and 1943, 10th Mountain soldiers trained at Camp Hale in Colorado's Rocky Mountains, 9,200 feet above sea level and near the towns of Pando and Leadville. At altitude, faced with rugged terrain, sub-freezing temperatures and snow up to 12 feet deep, soldiers by the thousands learned rock climbing, snowshoeing, skiing and "winter survival," in addition to standard infantry combat skills—all while carrying 100-pound rucksacks. The conditions would come to seem hospitable compared to the war front, but there was no shortage of casualties during the two years the 10th Mountain trained and grew, the original 87th regiment spilling over to the 86th and finally the 85th.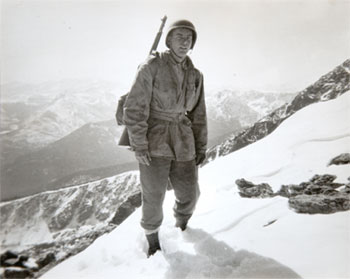 Soldiers like Mansfield, above, carried out hiking drills in sub-zero temperatures, carrying packs that often weighed in excess of 100 pounds.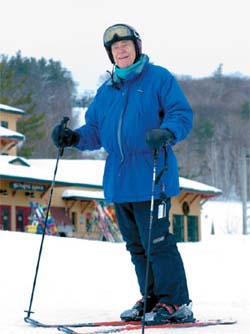 Richard Mansfield '49, '50G at Mt. Sunapee, N.H., near his home in Grantham, N.H.

Chief among the challenges faced by the new recruits was the cold. Temperatures regularly fell to minus 30 overnight, and some soldiers, like McCrudden, spent all night outside on maneuvers. "Because I had done a lot of rock climbing, I was assigned solo maneuvers, ice climbing by myself from dark until first light," McCrudden says. Lacking adequate protection from the elements, he lost more than 45 pounds over the course of several months and ended up hospitalized for hypothermia and exhaustion, missing the division's eventual deployment. "For a while," he says, "I wasn't sure I would make it out of training alive."

Thorne also experienced a "Camp Hale diet" when he volunteered for an exercise called the Pemmican Experiment. For three weeks he and several other soldiers lived in a snow cave on a summit, consuming nothing but water and dried deer meat, to see if the rations would be sufficient to sustain soldiers on the front.

Easy to print version


blog comments powered by
<!— end body ======================================================================== —>