On Ben's Farm
Enter, Stage Right


Mask and Dagger has been 'breaking a leg' for almost 90 years





By Mylinda Woodward '97





Easy to print version
From where they sat on the folding wooden chairs, the audience couldn't tell that the stage—which was little more than loose planks laid across sawhorses—vibrated unnervingly with every step the actors took. The stage had been constructed in the men's gym, now New Hampshire Hall, by the new honorary drama society, Mask and Dagger.
"Dulcy," a three-act comedy directed by William G. Hennessy, was performed on Dec. 14, 1923. The stage may have been shaky, but the production was solid. And so began UNH's educational theater program, led by Hennessy, an English professor who had come to UNH after a brief career as a professional actor. The honorary society required students to earn points toward membership by participating in campus productions—acting, working backstage or doing publicity. Apprentices were initiated with an elaborate ceremony, sometimes with robes and candlelight, and presented with a certificate and a pin.
The group rented a small stage from the Durham Community Church. During performances, the stage crew hauled sets through windows, praying that it wouldn't rain. When Murkland Hall opened in 1927, it included an auditorium with 370 comfortable seats, stage facilities, two dressing rooms and a storage room—heaven for the amateur thespians.
For "Dulcy," Hennessy had written a note on the program: "No money, no scenery, no anything." Later, resources were not so scarce. The students fabricated everything from fine art to a corpse—the latter having to withstand being yanked off the stage nightly. An hour before one opening night, the crew discovered that a scene called for a roasted turkey. Using canvas and junk parts, they had the "turkey" ready by curtain time. The stage crews would compete with each other to make the quickest scene changes. "As the curtain closes on a scene," wrote Wesley Brett '49G, Mask and Dagger's first technical director, in The New Hampshire, "the stage assumes the appearance of a madhouse. When chaos subsides, you realize it must have been an unusual form of efficiency, for there, in no time, is a complete new set ready for the next scene."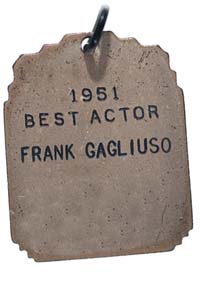 In 1943, Hennessy directed his last play, "Arsenic and Old Lace." The shortage of male students, leaving one by one to join the armed forces, created a challenge. Hennessy invited women to operate the stage lighting and scoured the streets of Durham for actors. When Bill Robinson '44 was deployed 10 days before opening night, Hennessy himself stepped into the role of crazy Uncle Teddy "Roosevelt" Brewster. The show earned rave reviews.
In 1960, the Paul Creative Arts Center opened, and Hennessy retired in 1961. At the suggestion of alumni, the center's theater in the round was named in his honor. Today the Mask and Dagger Society is run by students, independent of the theater department. But its philosophy remains the same—that theater is "a gift, and it is the goal of Mask and Dagger to give this gift to the university community." Its next gift—a production of Eugene O'Neill's "Dynamo"—will be presented at the William G. Hennessy Theater. ~



blog comments powered by