Question/Answer
A Different Dream


It may not be center field, but Emmy-nominee Mike O'Malley '88 is still center stage





By Rebecca Rule '76, '79G


Also read the long version of Question/Answer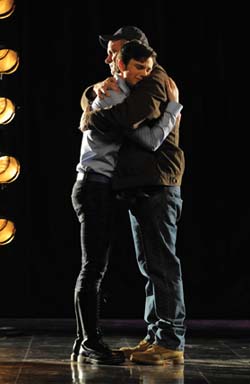 Photo by Michael Yarish/Fox
LIFE-PAIN: Chris Colfer and Mike O'Malley '88 in "Glee"
Q: Are you living your dream?
A: My dream was to play center field for the Boston Red Sox.
Q: What happened?
A: I didn't even make varsity at Bishop Guertin High School. I'm hoping desperately for a kind of "Heaven Can Wait" episode where I buy the Red Sox and force myself to play center field. But that's unlikely.
Q: You're known for wearing a baseball cap. Red Sox?
A: UNH. I've been wearing UNH lately for Dick Umile and the hockey team. They almost made it to the finals last season. We'll be rooting for them.
Q: You're married with three young children. How do you balance career and family?
A: You have to participate in things with your kids. I coach T-ball and basketball. I've offered to teach my daughter's ballet class, but she's not interested. I told her I took theater dance at UNH a number of times—I barely passed that class. If you're a theater major you have to take dance.
Q: I'm sure you learned many valuable lessons in that class.
A: Not to go into dance. Not to consider dance part of my repertoire. It's good when you can narrow your fields of expertise.
Q: What other UNH experiences have stayed with you?
A: I was involved in Freshman Camp and Kappa Sigma. I was very involved in the theater department. It was a place where quality friendships could be made that have sustained me—especially when I was struggling in New York. Two of my UNH friends, Rick Munroe '88 and Jack Mungovan '88, were in my plays. All the people I went to school with came to support the plays. There had to have been 30 people from UNH at my wedding, 12 years after I graduated. Real, strong friendships.
Q: You were nominated for an Emmy for your performance in "Glee."
A: I'm happy just to be working, but it's phenomenal to be in that company and to be acknowledged for your work.
Q: In one episode your character defends his gay son from a bigot. What did you draw on for that powerful moment?
A: Chris Colfer, who plays my son, Kurt, has such a deep reserve of emotion available to him. It's easy to act opposite a person who is as awesome as he is. In our scenes, I just put my attention on him and listen and react. Also, I think most parents would agree that bearing witness to the "life-pain" encountered by their child is harder than their own personal struggles—primarily because a parent feels responsible for introducing their kids to a world where people can be cruel. As a father, it's easy to draw on my love for my children and my hopes for their happiness and use it as an actor.
Q: You act and you write. How do the two compare?
A: I love acting. The problem with being an actor is not everyone sees you the way you see yourself. I'd love to play an action hero. I'm unlikely to be cast as one. That's just the way things go. With writing no one's stopping you from writing. They may not want to stage it. They may not want to spend $2 million making a movie out of it. But you can still sit in your room and write.
Q: What makes you laugh the most?
A: The fact that we just get uglier the older we get. I've been aging ungracefully for years.
Q: What super hero would you like to be?
A: Superman—it's time they bring back a super hero with a gut.
Editor's note: In February, Mike O'Malley '88 will do staged readings of his play "Diverting Devotion" at UNH as part of the Arts for Life celebration.
blog comments powered by