Features

After War, Life


Page 2 of 5



Majoring in political science, Scott centered his life on ROTC; he found everything about the military endlessly fascinating. Dora, aiming for an Army career as an occupational therapist, rowed crew and deliberately sought out nonmilitary friends. But she was as eager to deploy as Scott was.

Dora graduated in 2003 and did her officer basic course in Texas; Scott graduated the following year and did his in Georgia. Dora went to Walter Reed Army Hospital for fieldwork and stayed on as a staff occupational therapist. Scott finished Ranger School at Fort Benning and became the executive officer of a basic training company. They got together whenever they could.

In 2005, Quilty and his good friend from ROTC, Ben Keating '04, met in Durham. Quilty was tired of his desk job, and he told Keating he was jealous: Keating was deploying to Afghanistan.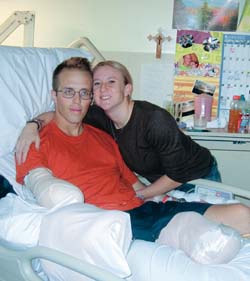 Courtesy Photo

CONVALESCENCE: Scott '04 and Dora Wilcox Quilty '03 at Walter Reed Army Hospital in Washington, D.C., in 2006.
They were young and invincible. Over a beer at the Tin Palace, they spoke of their goals and barely mentioned their fears. Combat, in their mind's eye, looked like the Normandy landing scene in the movie "Saving Private Ryan." You know a lot of those anonymous people in the background are going to die—but not Tom Hanks, because the camera is on him. "We all think the camera's on us," Quilty says.
Mud huts. Water buffalo in courtyards. Garbage. Smells. "No electricity, no running water. No commerce, no industry, no nothing." Scott Quilty is describing what he saw when he arrived in Iraq in August 2006, a 26-year-old lieutenant leading a platoon of 42 that would be embedded with the Iraqi army. Their AO was a farming area southwest of Baghdad. It had acquired a sobering nickname: the Triangle of Death.
Platoon Sgt. Del Rodriguez had been in charge, without the usual lieutenant above him, when Quilty transferred to the 10th Mountain Division four months earlier. Most of the platoon had already served in Iraq, and they were leery of this new guy with no combat experience. "Clearly he was a smart kid," Rodriguez says. "He listened before he talked, unlike most lieutenants, and he figured things out."
The more Quilty learned about Iraq, the more he thought, "No wonder they're shooting." He knew true bad guys were out there and needed to be killed. But the men they were picking up, the ones placing most of the IEDs—"abject poverty, no job, no teeth," he says. "If I was in that situation and somebody offered me $100 to place the wire, I'd be placing the wire."
At first, his duties as platoon leader weighed on him so heavily that he couldn't stop working. "If it wasn't going to directly contribute to taking everyone home, I didn't spend time on it," he says. Rodriguez and others warned him: Slow down. Get some sleep. Quilty tried to comply.
Six years later, sitting in his quiet home office, Quilty begins drawing as he talks about Iraq. He recalls good days and bad, and slowly the drawing becomes a storyboard of the worst day, Oct. 2, 2006. This is a condensed version of what happened, in his own words:
We were moving into an area we hadn't been to before. It was a much smaller village and we were going in with an Iraqi company and an American company, 120 people. We were going to search from house to house, looking for weapons or bad guys. It was our largest operation to this point.
The mission planning process was abbreviated. We didn't have room for an interpreter, just me and the radio operator and six Iraqis. We left around one in the morning, touched down, started to move into position. Quiet. Night vision. Nervous. Nothing about this mission was ideal. But that's what infantry does: We don't do the ideal; we do what's necessary.
Page: < Previous 1 2 3 4 5 Next >
Easy to print version