Alumni Profiles
Insight


Blindness, says Fred Jervis '44, '49G, led him to his profession—and helped him excel.





By Jennifer Latson '12G




Easy to print version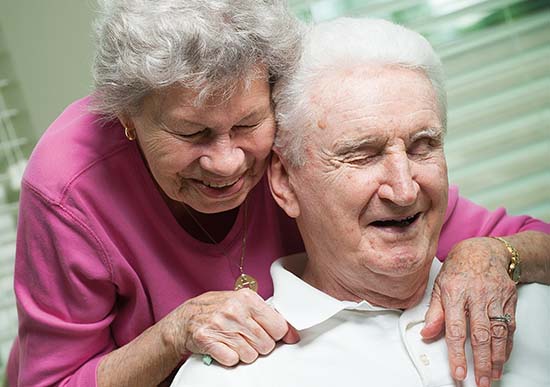 Perry Smith/UNH Photographic Services
When Fred Jervis '44, '49G studied frustration and coping skills in blind teenagers as part of his doctoral research in clinical psychology at Columbia University, he had a vested interest in the subject. Fighting in the Battle of the Bulge, barely more than a teenager himself, he had crossed into German territory and set off an anti-tank mine. His injuries left him permanently blinded.
His recovery spanned two years at four hospitals, where he underwent numerous surgeries, including several abortive efforts to restore his sight, and a lengthy rehabilitation process. But he didn't so much adjust to his vision loss as forge through it, pursuing two advanced degrees and a career as the head of the UNH counseling center, a professor of psychology, and then the head of a nonprofit organization called the Center for Constructive Change.
Jervis, now 90, never considered blindness a limitation, even when the admissions committee at Columbia at first refused to consider his application because of it. His score on the entrance exams persuaded the committee to reconsider, albeit provisionally—he was given a year to prove he could handle the work. But he never questioned his own ability; he earned his doctorate in 10 years and quickly established a practice. "I've always wanted to help people, and this seemed like the way to do a lot of that," he says.
He never "adjusts" to things, explains his wife, Janis. "He pushes them aside as if they're not obstacles, and then he looks beyond them for something bigger. I've never known anyone as good at looking ahead, rather than looking behind."
But Jervis was troubled by the results of his research, which found that blind teenagers tended to become deeply frustrated when they couldn't accomplish what they set out to do and turned that frustration inward. He wanted to help others—not just the blind, but anyone facing challenges—find ways to solve their problems effectively. This interest led him to develop a system of problem-solving that became the cornerstone of his work at the Center for Constructive Change, which he and his wife founded in Durham in 1971.
Jervis' approach was to start at the end, with a concrete concept of the ideal solution. He called his approach "backplanning"—working backward from the solution, step by step. Over the years, he used this approach as a consultant in fields from hotel management to public education to engineering to sports. With clients from the Panama Canal Commission to legendary UNH hockey coach Charlie Holt, Jervis' expertise in a given field didn't matter; he was a clear and effective thinker.
Walter Green, a former CEO who first sought Jervis' help more than 30 years ago, says Jervis once told him that blindness had both led him to his profession and been an asset in it. Because Jervis couldn't physically see, he developed a knack for asking incisive questions. The techniques he developed as a result, Green says, are revolutionary and profound.
Dennis Harrington '90G, the principal of Moharimet Elementary School in Madbury, N.H., attributes his school's successes—everything from its curriculum to its landscaping—to Jervis' influence. Harrington has been "backplanning" since he enrolled in a seminar Jervis taught in 1978. Jervis later adopted Moharimet as a pro bono client. The payoff was in the school's achievements, he says. "It's amazing what a nice feeling you can get from helping someone accomplish what they want to accomplish."


Return to Alumni Profiles
blog comments powered by