Letters to the Editor
Spring Issue Kudos
I have received the Spring 2013 issue and have enjoyed it immensely—as always. The articles have so much info about everything that is happening at UNH, and I have a large file of the past magazines that I simply have to save for future reference. You guys really know how to do it!!!
Margaret (Peg) Tower Whittemore '46
Sudbury, Mass.
I always enjoy the UNH alumni magazine. Thanks so much for sending it. I enjoy reading about my classmates and also the new young people.
Marion Stearns '45
Livermore, Calif.
I read UNH Magazine, and both my husband and I thoroughly enjoy it! There are always very interesting articles, and the photos are also amazing! Lots of good history is sprinkled in and very much appreciated. The story topics are great, too. A sure prize-winner of a magazine!
Diane and Jim Howard '80
Windham, N.H.
Art History
I enjoyed the Spring 2013 issue of UNH Magazine, but wish to note one small correction. On page 41, you say that the UNH Wildcat is "the university's first commissioned work of art." [However, it's] the first large commissioned work that stayed on campus.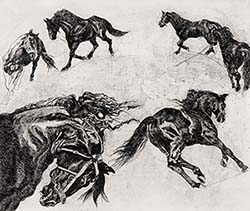 "Six Views of Astronaut" by emeritus associate professor of art Sigmund Abeles (1970-1987), etching on copperplate.
Some years ago [in the mid-1970s], J. Robert "Bob" Sandberg, then director of development, and I, then special programs manager in the development office, commissioned associate professor Sigmund Abeles to do an etching for the members of the President's Council. These were people who had given generously to the university's previous capital campaign, and we wanted to ensure that they were thanked adequately before the next campaign.
As I recall, Abeles said he'd do the etching only if he could choose his subject and that he would not do anything featuring a campus building. The result was "Six Views of Astronaut" [the university's stud stallion] (see page 4).
Jean McCord '72G
Tacoma, Wash.
Philosophy Matters
I wanted to tell you how much I enjoyed the article on Nick Smith's philosophy classes in the Spring '13 issue. I keep thinking about the idea of the digital brain and the concept of integrating technology into our bodies. I'd love to sit in on a class where students discuss whether we truly exist if only a digital version of us remains.
Ruth Clogston '80G
Reading, Mass.
I would have loved to have taken a class with Nick Smith. He seems to have his priorities in the right order. If my husband, Bob, had worked until 65 instead of retiring at 57, we would have had more money, but less time to fulfill our dream to travel—so for us, we made the right decision. Just like the prof said, "Then you die." That has happened to so many people we've been close to that I guess we learned our lesson quickly.
Patricia Gourley Sullwold '75
Burnsville, Minn.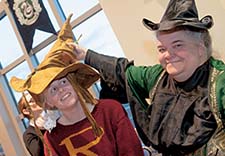 GRYFFINDOR!" Rachel Swett '16, as Ron Weasley, gets her turn under the Sorting Hat, wielded by parent Kris McCosh.

CORRECTION: A caption in the Spring 2013 issue misidentified a student in the "Hogwarts Comes to Holloway" story (page 6). The corrected caption appears above. Our apologies for the error.
Peace Corps Memories
What a wonderful collection of stories (Spring 2013). I graduated from UNH in 1998, my husband [Chad Turmelle '99, '07G] in 1999. In the fall of 1999, we shipped out to the South Pacific island-nation of Vanuatu, where we served for two years in the Sanma Province. We toiled, worried, and worked so hard. But, what we gave pales in comparison to what was given to us. It was indescribably amazing. Thanks, UNH, for connecting us to our Peace Corps path.
Amy Manzelli '98
Pembroke, N.H.
Open for Business
Congratulations on the Spring 2013 issue of UNH Magazine—excellent! I enjoyed it from cover to cover, especially the article "Open for Business," about the new Paul College.
Rod Grondin '62
Rochester, N.H.
blog comments powered by