Alumni Profiles
Form and Function


Industrial designer-craftsman Fred Puksta '81 makes hard work beautiful.





By Larry Clow '12G




Easy to print version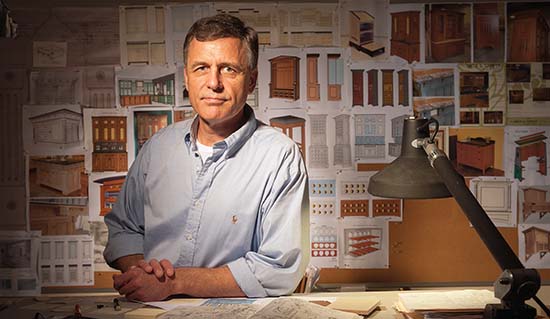 Perry Smith/UNH Photographic Services
Growing up in Claremont, N.H., Fred Puksta '81 and his brother Steve '81 spent most of their summer days in the river next to their family home, looking for stones to add to the wall they were building. Although the whole family pitched in, it was the brothers who led the way, wading into the water, dragging out rocks, and piling them up into a wall that, after 15 years of intense work, measured 175 feet long, 10 feet high, and 10 feet deep.
The final product was not only functional but beautiful—a living sculpture that foretold the aesthetic of Puksta's ultimate life work. As an industrial designer and member of the New Hampshire Furniture Masters, Puksta today is a decorated designer-craftsman who creates furniture and cabinets that are, as much as anything else, works of art.
As a UNH student, however, Puksta saw himself more as a future Olympian. His freshman year, he signed up for the crew team, once again joining forces with his brother Steve. As team captain and president, respectively, Fred and Steve pushed each other to their limits in much the same way they had when building their Claremont rock wall.
"There wasn't a student out there who didn't know how hard the crew team worked," Fred says. Whether it was 6 a.m. runs across campus and up and down the stairs of Stoke Hall, weekly bake sales in the MUB, or the annual work-a-thons that raised money for the club, the efforts of the crew team—and the Pukstas—were synonymous with demanding, rewarding, physical work.
A business major, Puksta also found himself drawn to woodworking and furniture-building, interests that were grounded in his childhood. Although there wasn't an official woodworking major, he took as many courses with art professor Daniel Valenza as he could. "I practically completed a minor in woodworking," he says.
It was Valenza who inspired Puksta to look at furniture as "functional sculpture" rather than utilitarian objects. After graduating from UNH, he worked as a carpenter and cabinetmaker while training for the U.S. National/Olympic rowing team and eventually studied with renowned New York artist and sculptor Wendell Castle, who nurtured his interest in synthesizing art with practical works. Puksta was invited to serve as an artisan in Castle's studio after earning a degree in design, and eventually returned to New Hampshire to open his own studio.
Puksta embraces industrial design and artistic work with equal enthusiasm. When plans for the Christa McAuliffe Planetarium in Concord were announced in the late 1980s, he proposed an 8-foot-tall sculptural clock as one of the building's public art projects—a piece that would serve both as a memorial to McAuliffe and as a useful object. His proposal was deemed too expensive, but he felt compelled to build the clock and told the planetarium director he would raise the money for the project himself.
For the next two years, Puksta applied for grants and sought private and corporate funding for the clock. It was an effort that recalled his years organizing bake sales and work-a-thons for the UNH crew team, as well as all those summers he spent building a wall, one stone at a time.
The clock was completed and installed in the planetarium in 1994. The piece is representative of Puksta's career as a furniture maker—a marriage of hard work, persistence, innovative design, and unique artistic flourishes. His Keene home is filled with examples of his work, from the saber-leg dining room table that he designed for Crate & Barrel to the custom-made kitchen cabinets he created for his current employer, Crown Point Cabinetry. Indeed, Puksta's true mark as a designer and craftsman may be his ability to make the difficult look not only effortless, but beautiful.


Return to Alumni Profiles
blog comments powered by