Alumni Profiles
Marathon Woman


This summer, Kerri Haskins '93 became the first New Hampshire woman to run 50 marathons in 50 states.





By Kristin Waterfield Duisberg




Easy to print version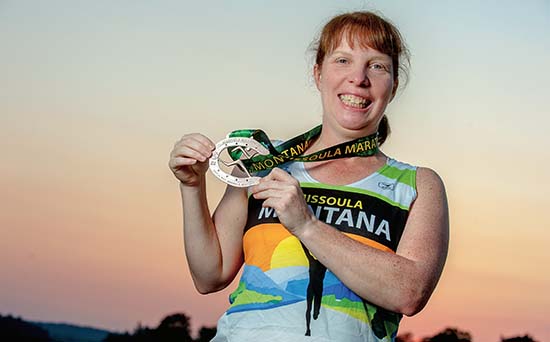 Lisa Nugent/UNH Photographic Services
Eight years ago, when Kerri Haskins '93 stepped on a treadmill to see if she could run 2 miles, the former UNH track and field captain was shocked to discover the answer was no. "I'd had some health problems," she says, "and I knew I had let my fitness slip, but I had no idea by how much."
Determined to get back in shape, Haskins signed up for the February 2006 Hyannis, Mass., half-marathon, and ran the 13.1-mile race in a blizzard. The same October, she ran her first full marathon, in Hartford, Conn. "It just felt good," she explains, "knowing I could set a goal like that for myself and achieve it."
Seven years later, the Danville, N.H., resident is closing in on the 75-marathon mark—a goal she expects to achieve this fall. And in July, when she crossed the finish line at the Missoula Marathon in Montana, she became the first New Hampshire woman to fulfill an elite marathoner goal: to run a marathon in every U.S. state.
A self-described tomboy, Haskins started running at the age of 8, and began competing in the New Hampshire Hershey Track and Field program at 9, after beating the local boys in playground races lost its thrill. As a 12-year-old, she set a Hershey state record for the 200-meter dash that still stands today. Her focus was on the sprint distances, and as she added volleyball and softball to her high school sports repertoire, she picked up javelin and long jump as well. By the time she graduated from UNH with a degree in business administration, however, she was pretty burned out on running, all but hanging up her sneakers—until that afternoon in 2005 when she stepped on the treadmill.
Haskins says the seed for the "50 in 50" goal was planted in 2007, at the beginning of her third 26.2-miler. Spotting an older man in a T-shirt that identified him as a member of the "50 States Marathon Club," she asked him how many marathons he had run. The man turned out to be the club president, and his answer—"250, so far"—captured her imagination. "I kind of figured, 'Why not?'" Haskins says with a laugh.
Among the more memorable races she logged en route to the magic 50 were a Baton Rouge, La., race that she ran on four hours' sleep; the Big Island, Hawaii, marathon, which began at 6 a.m.; a tiny race in Green River, Wyo., held at 8,000 feet—and this year's Boston Marathon, her first. Haskins was just past mile 21 and Heartbreak Hill when the bombs went off and the news started filtering in. Along with hundreds of other runners, she continued on to mile 24, where she was required to stop.
"I went through a lot of emotions," she says. "Shocked, angry—it was just surreal." The race didn't count toward Haskins' goal, and five days later, when she headed to Lovington, N.M., for her next marathon, she was anxious. "That's the one time I wondered whether I wanted to continue my journey," she admits.
She did, of course, tapping into the same mental toughness that's gotten her through 60 marathons and seven ultra-distance races, through hills, heat, high winds, and even a bout of flu. Beyond that first-marathon sense of accomplishment, she is at a loss to explain what drives her to run, but counts as her inspiration her fellow "Marathon Maniacs" and 50 State Marathon Clubbers. Although she shoehorns in her marathons on weekends and vacation days from her day job at Pfizer, Haskins laughingly brushes off any suggestion of a Type A personality—even if the 1,400-plus miles she'll run this year suggest otherwise.
"My family and friends were a little bewildered when I first started this, but now they think it's pretty cool," she says. "When they text or call me, the only thing they want to know is, 'What state are you in today?'"


Return to Alumni Profiles
blog comments powered by