Alumni Profiles
Stepping Up


Former football star Mujahid "Muji" Karim '07 provides hope and guidance to other amputees.





By Chelsea Conaboy '04




Easy to print version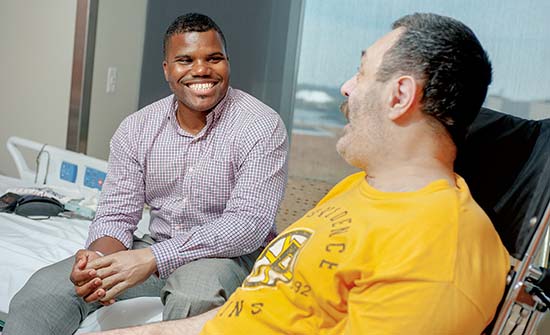 Lisa Nugent/UNH Photographic Services
As Muji Karim '07 remembers it, UNH football coach Sean McDonnell '78 was the first person to tell it to him straight after the accident: The weeks and months ahead would be incredibly difficult. Burns had claimed both legs and most of his left hand, and he had broken both arms. Then McDonnell reminded Karim of his own motto. After a tough practice back at UNH, Karim would often say, "Nobody likes it easy."
In August 2011, Karim and his brother, Husain '08, were driving in Boston after a night out with friends when their car veered off Storrow Drive, struck a tree, and erupted in flames. Both men suffered head injuries and severe burns over much of their bodies. Both would spend weeks in intensive care. The fact that they were burly former football players likely helped them that night.
The brothers had played together at UNH in 2006, when the team earned a 9-4 record and a spot in the second round of the NCAA playoffs. After the accident, friends and former teammates rallied to support them, and McDonnell made regular Friday visits to the Boston hospitals where they were treated.
Muji had to learn to walk again with no fully functional limb. There were days of depression, but he impressed his therapists with his competitor's tenacity and a determination to get well enough to support his young daughter. Early on, a burn survivor who visited his hospital room gave him a new perspective on recovery: Others had done it. He could, too.
Karim was discharged from Spaulding Rehabilitation Hospital in Charlestown, Mass., six months after the accident. He walked out of the hospital arm in arm with his brother, their mother and other family members following. Behind them, nurses and therapists wearing UNH football T-shirts cheered and waved and wiped away tears.
Karim moved into an apartment complex in Quincy, Mass., where he lived on his own. He practiced walking in the long hallways. He mastered the curbs outside his door and, eventually, lost his crutch. With the help of a longtime friend who became his girlfriend after the crash, he learned to drive with new legs. Husain, whose badly injured right hand has required nine reconstructive surgeries, is full of admiration for his brother. "I can't even explain how proud I am of what he's been able to do," says Husain. "He refuses to be held back by anything."
Still, after the most intense phase of recovery had passed, Muji was struggling to figure out what was next for him. Then, on April 15, two bombs exploded at the Boston Marathon. The news coverage felt personal. Even before the bombing, Karim had begun visiting the hospital occasionally to meet with new trauma survivors; after the bombing, he volunteered to meet with patients more regularly.
There was the man who had been badly burned when he fell on a blowtorch at work and a teenager who, like him, had lost both legs in a car accident. And there were the bombing victims—the newlyweds who had each lost a limb and Celeste Corcoran, a hairdresser who lost both legs in the explosion. He has tried to give them perspective. And they, in turn, give him the understanding that, after all he's been through, he has done something meaningful. "It's healing for both sides," he says.
When Karim first met Corcoran at Spaulding last spring, he slipped off his right prosthetic to show where his own leg, ending just below the knee, fit into the manufactured one. He then lifted his left pant leg so she could see the computerized joint, where doctors had amputated through the knee on that side. "That's me," Corcoran said, leaning over the arm of her wheelchair to look more closely. "I'm below the knee and through the knee."
For Corcoran, who wavers between hopefulness and tears, Karim is a symbol of what's possible after a terrible trauma: living without constant help from family, driving on your own, beginning to piece together a life that isn't dominated by injury. He tells her to measure progress month to month, not day to day. It will get better, he promises. "It doesn't get easy. But it gets easier."
Ed.'s Note: A version of this story originally appeared in The Boston Globe.


Return to Alumni Profiles
blog comments powered by