First, there's Kemple's buzzed-about photo of a kayaker launching off the face of a 60-foot waterfall in a remote Mexican jungle, a slash of red against a foaming wall of white. Then there's the photo of him getting the shot. Kemple is dangling above the gorge, suspended on a slackline strung between rocks. He, too, is 60 feet off the thrashing water line, but without any thermoplastic armor or any viable Plan B. If he goes, he goes.
Both photos appear in a National Geographic blog. "WOW!!! What great pics," reads the story's first online comment. "But glad I didn't know what you were up to!"
It's signed, "Mom."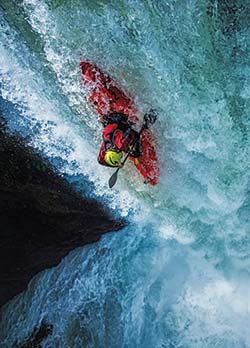 Tyler Bradt paddles down the 60-foot tall Tomata 1 waterfall, Tlapacoyan, Veracruz, Mexico.
Without a doubt, knowing less rather than more is not a bad way to go if you're family or a friend of Kemple's. In the last year, he has been in the aforementioned jungle for a kayaking "huckfest," rambled through Iceland exploring ancient moss-covered lava fields and glacial ice caves, and flown in a helicopter for days on end just above the storm-raked peaks of the Alaska Range (including 20,328-foot Mt. McKinley, known to climbers as Denali, the highest peak in North America). For much of the latter exercise, his small, wiry body was more out of the helicopter than in—which was so much fun, even at minus 50 Celsius, Kemple says he's thinking he'd like to do the same above all of the world's tallest mountains. "I was looking straight down the North Face of Denali thinking, 'Oh my God, am I really here right now? I'm definitely going to remember this.' "
At the hardly ripe age of 32, Kemple has already accumulated his share of epic memories. A microbiology major who grew up in Derry, N.H., he's a former professional rock climber who has put up acclaimed routes throughout New England and around the world. As a student at UNH, he won several intercollegiate competitions (often beating the Dartmouth aces who would have otherwise swept the contests) and was part of a class of young sport climbers that helped usher in a "new era" of bold routes at North Conway and Rumney, the traditional meccas in the North Country. "He's great," says Alison Osius, an editor at Rock & Ice magazine who traveled to the same crags as a Middlebury student. She says Kemple is known for his New England authenticity and integrity, a dry sense of humor, and a stunning resume that includes "all kinds of climbing, from hard rock in New Hampshire to alpine rock in Patagonia."