Alumni Profiles
An Artist's Legacy
by Rich McKown '69
For 30 years, John Laurent was both a mentor and an inspiration to generations of UNH students. His influence was an underlying theme in a show hosted by the Old York (Maine) Historical Society's George Marshall Store Gallery this past summer. The show featured the work of nine alumni artists, all of whom studied with Laurent and were strongly influenced by him.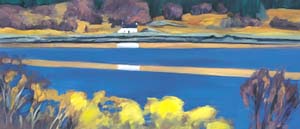 Sherry Palmer, "Cottage with two reflections, spring," 11"x25" oil on linen, 1996.
John Laurent came to UNH in 1954 as a painting instructor. No stranger to the southern Maine coast, he had summered at Cape Neddick, where his father, sculptor Robert Laurent, had helped to establish the Ogunquit School of Painting and Sculpture in the first decades of the last century. Through his father, he knew American Modernist painters Marsden Hartley and Walt Kuhn, who later became his mentor. After a stint in the Navy during World War II, he studied painting with Kuhn, then at Syracuse University, in Paris and at Indiana University. Laurent remained at UNH for three decades, becoming one of the university's most popular professors. He also gained critical acclaim for his own work, which is part of many public and private collections around the country. Now a professor emeritus, he lives in Perkins Cove, Maine, where he shares his living room with an easel and drawing table, overlooking the Atlantic.

Tom Glover, "J.L. in the Cove," acrylic and oil on board, 9" x 12", 1990.
Laurent challenged his students to make "juicy paintings," not merely to paint dry imitations of the world in front of them. The nine artists in the show at York have all followed that advice. All of us, at midcareer, have achieved some success. Sam Cady '65 participated in a Whitney Biennial in 1975 and has continued to show his sculptural paintings in his native Maine, as well as in Boston and New York. Works by John Swan '72 are shown throughout the United States. The rest of us have a more regional following. Two of us teach: Cady in the graduate program of the School of Visual Arts in New York and myself at the University of Massachusetts in Lowell.
The paintings of Roger Goldenberg '81, '91 are the most blatantly abstract: brightly-colored, strong graphics cover the surfaces of his shaped pieces on plywood. Jane Adams '80 inhabits her landscapes with people. Swan's paintings employ gestural brushstrokes to describe various landscapes. Landscapes by Catherine Doocy '76 and Sherry Palmer '69 have a lyrical looseness to them. Tom Glover '84 paints in two styles: one similar to Laurent's—broad colors banded to form abstracted landscapes—and the other more tightly representational. Jerry MacMichael '65 paints his native New Hampshire Lakes Region and creates small sculptures of the ice fishing houses that populate the lakes in winter. My own work is realistic and panoramic.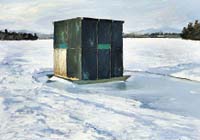 "Bobhouse with Green Curtains #1," 6.5" x 9", oil on panel, 2002, Jerry MacMichael.
We all share interests in the out-of-doors: many of us fish, sail, hike and hunt, as does John Laurent. He has taught us to assemble the various details of our subject matter into what art professor David Andrews calls Laurent's "unsentimental poetry." Laurent has been and continues to be a vibrant influence on the vision of each of us. "As a student, I was awed by the virility and richness of his work and by his mastery of medium," Jerry MacMichael recalls. "I still see it so: in recent years, I have begun to appreciate the quieter aspects of his work—its solemnity and rightness." ~
Easy to print version
blog comments powered by