Alumni News
Welcome to Wildcat World
What if your college yearbook magically kept itself updated with photos, contact information and news of your classmates as they are today?
It's not a Harry Potter book or a science fiction daydream.
It's the Virtual Yearbook, a state-of-the-art electronic concept developed and built at UNH and brought to you as part of the new alumni Web site, Wildcat World.
Wildcat World has a new, eye-catching look and offers more user-friendly navigation. But the real cornerstone of the new system is the Virtual Yearbook, where alumni and students can create their own yearbook "pages" by deciding what information to display, adding a "My News" section and a resume, and uploading photos (up to 10 megabytes per person).
Register and Win
Win a UNH wall clock, a weekender bag or a UNH hockey hat by registering and creating a Virtual Yearbook page on the new alumni Web site, Wildcat World.
To kick off the Alumni Association's new site, all alumni and students who register through March 15 will be entered in a drawing for UNH hockey hats. Ten hats will be awarded.
Users who add photos to their Virtual Yearbook page will be entered in a drawing for a UNH wall clock (first prize) or a UNH weekender bag with shaving kit (second prize). For photos of the prizes, visit Wildcat World www.alumni.unh.edu and click on "Enter a drawing."
To create a Virtual Yearbook page, visit www.alumni.unh.edu. Click on "First time user" and follow the instructions.
Another state-of-the-art aspect of Wildcat World is the integration of the online database with the Web site. The advantages aren't obvious at first, but users will soon notice two things: services that are for alumni and students only are available throughout the site, not hidden away like a gated community, and every user, after logging in, has a personalized sidebar that makes finding favorite pages easy and fast.
In addition, each user can build two versions of his or her yearbook page: a public one, for prospective employers or non-UNH friends and relatives, and a registered-user version, which only UNHers can access. Nearly every piece of information in a user's record, from home address to workplace, e-mail address and phone numbers, can have its own privacy setting: a choice of public (anyone can view), registered-users-only (just for UNHers) or private (no one outside the alumni office can view).
In addition to searching for classmates and friends, alumni and students can group their friends' Virtual Yearbook pages together in "Buddybooks," an easy way to flip through the pages to see new photos and updates and (coming soon) to e-mail friends as a group.
Other new features on Wildcat World are class pages for each class, Web pages for chapters and interest groups, an online Class Notes page that allows alumni to post their own update and search for classmates' news, an expanded Alumni Marketplace, an online alumni calendar and special services and pages for dues-paying members of the Alumni Association.
Wildcat World will continue to offer current electronic services such as e-mail forwarding (a permanent UNH e-mail address), online voting, the UNH Connection (a weekly e-newsletter) and e-mail discussion lists.
There is no fee to use Wildcat World, which is located at www.alumni.unh.edu. The system was developed by the UNH Alumni Association in conjunction with UNH's Research Computing Center.
Meet a Winner
It was May, finals time, and like every other student on campus, Matthew Ignos was feeling stressed. Then the phone rang, and things suddenly looked a lot better.
On the other end of the line was Polly Daniels '64, director of on-campus alumni activities, and she had some very good news: Ignos had just won the 2002 tuition raffle, an academic award worth $6,000.
The scholarship couldn't have come at a better time. Diagnosed with Hodgkin's Lymphoma during spring break of his freshman year, Ignos stayed in school full time while going through chemotherapy and radiation treatments for the cancer. "I needed something to keep me positive and working toward a better future" he says.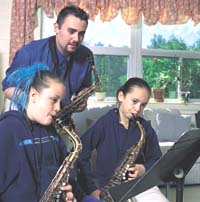 Matt Ignos '04 shares his love of music with students at Mast Way Elementary School.

- by Perry Smith / UNH Photographic Services
But due to a drop in his grade-point-average, Ignos had lost the dean's scholarship that was helping him to pay his way through school. Thanks to the money from the tuition raffle, his financial burden has been lightened. "It was quite a relief," Ignos says.
Today Ignos is in good health; his cancer is in remission and he says he feels great. He is quick to smile, and his eyes seem to sparkle as he talks about his life as a music education student. He gives saxophone lessons to fourth and fifth graders and plays in the UNH Jazz Band. "I love kids," he says. "Getting them to play music, which is such a universal art form, is so important to me."
This year's tuition raffle will be drawn on March 12. UNH parents should receive raffle tickets in the mail; they are $12 per ticket or six tickets for $60. The first-place award will be one year of in-state tuition, valued at $6,340. Second prize is a $400 gift certificate for the purchase of textbooks; third prize is a $250 textbook gift certificate. To receive additional tickets, call (603) 862-2040 or e-mail alumni@unh.edu.
Calling All CEPS Alumni
The College of Engineering and Physical Sciences (CEPS) is starting an Alumni Society to provide ways for alumni to become involved with the college. "We hope to bring CEPS alumni together on a yearly basis to talk about issues that interest them and to provide ways for them to remain connected to their departments and to the faculty members they had while attending UNH," says Robert Henry, CEPS associate dean. Initial plans call for technical meetings for career enhancement and mentoring for students.
The society will hold inaugural events in conjunction with the annual Reunion, June 13-15. Events will include a Saturday afternoon CEPS Memories Program and groundbreaking ceremony for the Kingsbury Hall renovation and an evening reception and dinner.
For more information or to volunteer for the CEPS Alumni Society committee, call Stephen Jesseman '57 at (603) 526-2055 or e-mail jesseman@tds.net.
Come Back to Reunion 2003
Reconnect with good friends and make new ones at Reunion 2003, to be held June 13-15. Weekend events begin on Friday afternoon with the 50th Plus Luncheon, to be held at the New England Center. Friday evening features the Welcome Back Alumni Social and gourmet dinner for all classes, with live music by the dance band Bombay Jim and the Swinging Sapphires.
On Saturday morning, the Alumni Association will hold its annual meeting at Elliott Alumni Center. Alumni will then parade from the center to Main Street, where they will be bused to the MUB for the Alumni Association Annual Awards Luncheon in the Granite State Room.
Saturday evening will feature individual class banquets. Classes celebrating their reunions this year are the classes of 1938, 1943, 1953 and 1963. Joint reunions will be celebrated by the classes of 1947, 1948 and 1949; 1957 and 1958; and 1967 and 1968. Lectures will be held throughout the weekend. The College of Engineering and Physical Sciences is also planning special events for its alumni.
For more information, visit www.alumni.unh.edu or call (603) 862-2040.
blog comments powered by