Alumni Profiles
Snow Job
By Candice Stover
Wanted: Part-time all-in-one mayor, fire chief, administrator, and counselor to supervise 75 professionals in science and construction at the bottom of the Earth for six months. No birds, trees or mountains. Expect cabin fever. Must like cold and dark.
Make that "really, really cold," says Peter Koson '94 , describing his job as winter site manager for the 2004 austral winter at the Amundsen-Scott South Pole Station in Antarctica.
How cold? Try minus 107.9 degrees Fahrenheit in July, with "average" temperatures between minus 80 and minus 100. Most "Polies," as some call themselves, skip the minus and just report the number. "When someone tells you it's 63 degrees," Koson says, "there's no confusion."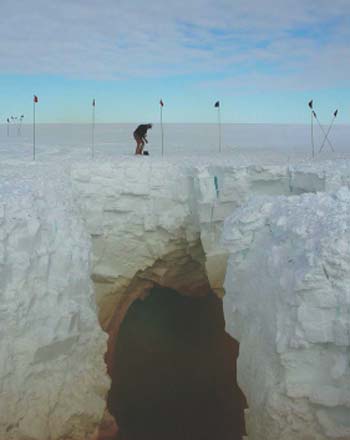 It's so cold in Antarctica that most "Polies" just skip the minus. "When someone tells you it's 63 degrees, there's no confusion," says Peter Koson '94.

What temperatures like that mean is suiting up in eight layers for even a peek at one of the spectacular auroras or stars, often visible 24 hours a day from March to September. The dress code on this ice plateau nearly two miles high is survival: crew bound for Antarctica are issued emergency cold weather gear in Christchurch, New Zealand. Bring on the insulated bib overalls and polypropylene. Bring on the big boots and fleece.

Koson knows every layer. He first went to the South Pole in 2001 as a carpenter, then wintered at Palmer Station for an austral winter (March to September), followed immediately by another austral summer at the Pole. That's roughly 14 months of living where water is such a valued commodity that the two-minute shower is "alive and well" and a green salad is practically exotic. "It can feel like Mars sometimes," Koson says. "Very disconnected."

But he likes the close community, the stark beauty (sunrise and sunset, each six weeks long, are "great events"), and the opportunity to be near cutting-edge science. So he agreed to return as site manager last winter.

A typical Saturday draws slightly more on his UNH RA skills than his degree in history—with a lot more at stake. In a community functioning at sub-zero and 800 miles from the nearest station, anyone signed out and not back on time could be lost forever. "Up at 6:30 a.m.," Koson writes. "Coffee. E-mail. Suit up." Then, outside for the fuel report—recording usage as well as physically measuring fuel in the active tank. Midmorning, he'll walk through the new station under construction: 60,000 square feet simultaneously being built and lived in. Lunch. Next, compile the weekly status-of-the-station report, organize the all-hands meeting in the galley ("safety issues, dispelling gossip, creating gossip, the latest National Science Foundation news"). Six p.m.: power-plant watch, check fire-protection zones, go to the gym. Afterwards, maybe a sauna or watch "The Shining" (again). In bed by 10. Up in the dark and do it again.

The position of winter site manager at the South Pole is, Koson explains, usually a one-shot deal. But he was on the ice again in December to get back to his "carpentry roots" after quick stops in New Zealand and New Hampshire. His vacation plans? Maybe play a little rugby with his Kiwi buddies. Wear shorts and flip-flops. But the first order of business in Christchurch, he says, is an hour-long shower.

Easy to print version
blog comments powered by