Mayor Dawn Zimmer '90 is directing Hoboken's recovery from Hurricane Sandy--just part of her quest to build the ideal hometown.
Picture 50,000 people in a bathtub, with a faucet they can't shut off. The bathtub is Hoboken, N.J., just across the Hudson River from Manhattan. The 50,000 souls are Hoboken's residents, who love their community's mix of urban convenience and small-town feel. The faucet was Hurricane Sandy, which pushed the river through the city like a mini-tsunami.
While other places in Sandy's path blew down, Hoboken filled up. More than 1,700 homes flooded, as did hundreds of businesses, all three electric substations and three of the city's four fire stations. The public works garage was swamped; the hospital had to be evacuated. In the lowest-lying areas, water in the streets rose shoulder high, swallowing the city's hundreds of basement apartments and leaving upstairs residents trapped in cold and darkness.
Close behind the rolling waves came the helping army: first responders, state and federal officials, National Guard troops and volunteers from many groups in many states, all seeking a role in the cleanup. For direction, this motley brigade trooped uphill to Washington Street, one of the few dry spots in the city. There, across from Carlo's Bakery, the setting for the reality TV show "Cake Boss," they found the office of the city boss, Mayor Dawn Zimmer '90.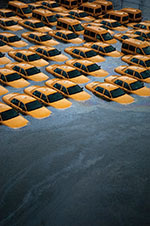 Taxis in Hoboken, N.J., after Hurricane Sandy came ashore in October 2012. Photo by Michael Bocchieri/Getty
Ten years after moving from Manhattan to Hoboken to be a stay-at-home mom, Zimmer-the-mayor was everywhere. She spoke out in post-Sandy conference calls with President Obama and toured the flooded train terminal with Vice President Joe Biden. She invited a CNN reporter to join her in the bucket of a front-loader, and they rode through the flooded streets as she pleaded for more help for her city. She stood on the City Hall steps at 2 p.m. every day and held a briefing for residents who had no other way to hear the latest updates.
Zimmer was there when New Jersey's famously outspoken governor, Chris Christie, helicoptered in to Hoboken's Pier A Park, with its spectacular view of the Manhattan skyline, and praised state residents as "tough, gritty, no-nonsense people" who never hide their feelings. "This state is a family," said Christie, "and when we have difficult moments, we pull together like a family."
"We're a family" can smack of political platitude, even in a Jersey accent. But for Dawn Zimmer, it's the simple truth. She and her husband moved to Hoboken mainly for their two young sons. As the boys grew, Zimmer's focus widened to the needs of her neighborhood and then to those of the entire city. Gradually, she adopted all 50,000 people in Hoboken's densely packed square mile as her second family. Within that embrace came a realization: Close as she'd come, she hadn't found the ideal hometown. If she wanted it, she'd have to help build it.
In the months since the Oct. 29 storm, Zimmer and her staff have continued building and started rebuilding. While tackling the immediate, they also think long term; while tackling the local, they think global. When the power was out, elderly people were injured falling in dark hallways and stairwells, so why not lobby for a state law requiring emergency lighting in multi-unit buildings? And if those lights could be solar-powered, so much the better.