Some of the most interesting subjects know no bounds.
Geoffrey "Jeff" Clark, M.D., '11G signed up for a UNH philosophy class just for fun toward the end of his career as a gastroenterologist. He had no idea it would lead to a master's thesis on a little-known Arctic expedition. Emma Baillargeon '09, on the other hand, knew at 22 exactly what she wanted to study: the performers in 19th-century freak shows. She also knew it wouldn't fit within the bounds of a single academic department. The Master of Arts in Liberal Studies program enabled both Clark and Baillargeon to design their own interdisciplinary degrees. Established in 1996 under founding director Paul Brockelman, a philosophy professor, the MALS program isn't for everyone. It requires a certain maturity, at any age, to chart one's own path through the academic maze. But students say the journey—whether undertaken on the way to a doctorate or just for pure enrichment—is well worth the effort. Clark's and Baillargeon's projects—as well as those of Kelly LaBrecque '08G and Andrew Bills '09—are highlighted here.
Abandoned in the Arctic

When Adolphus Greely arrived in Portsmouth, N.H., in August 1884, he got a hero's welcome, complete with a parade and 20,000 spectators. He and the five men with him were the only survivors—out of a crew of 26—of a harrowing three-year Army expedition to the high Arctic. Just over a week later, however, a New York Times story revealed rumors of cannibalism and a government cover-up. The grisly reports were confirmed by an autopsy. In a century of imperialism, says Geoffrey "Jeff" Clark, M.D., '11G, Americans viewed themselves as superior to "savages" in other cultures and thus had to judge this act of desperation as a sign of moral depravity. As a result, says Clark, the man who was taunted as "Eat 'Em Alive" Greely has never received his due for his heroism and achievements.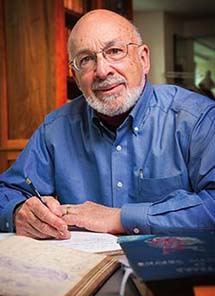 Geoffrey "Jeff" Clark, M.D., '11G
Thesis: "Arctic Ambitions"
Fields: History, American Studies, Photography
Current job: Retired Gastroenterologist
Trips to the Arctic: 3
Goal: Another project on the Greely expedition

Clark first visited the ruins of the expedition's Arctic camp 26 years ago. Since then he's devoted much of his own time, energy, and money—as well as his master's thesis in liberal studies—to the goal of bringing Greely's story to light. His efforts culminated in a 2007 documentary film that he produced, "Abandoned in the Arctic," in which Greely's great-great-grandson retraces the explorers' steps.
Greely and his team of explorers, based 500 miles from the North Pole, were charged with gathering scientific data and encouraged to set a new record for "farthest north." They succeeded on both counts, managing to take climate measurements several hundred times a day, around the clock, despite brutal conditions. (This data, ignored for more than 100 years, is now being used for research on climate change.) After Army ships failed to reach the explorers for two years, Greely led his team to a prearranged rendezvous 250 miles south. But no one was there to meet them, and the men had to endure a third Arctic winter with virtually no supplies or shelter. When rescuers arrived in June 1884, they found the few survivors barely conscious and near death in a collapsed tent.
For his master's thesis, Clark tracked down more than 100 photographs from the expedition as well as many of the crewmen's diaries. He is the first, since Greely, to have catalogued the photos, which had been taken with the then-new dry plate technology.
Clark still gets choked up when he speaks of Greely's ordeal. And it's easy to see why. To watch the film, or even just to flip through the photos in Clark's thesis, is to be haunted—perhaps for a long time—by the sacrifices, accomplishments, and suffering of 26 men trapped in the cold and dark at the top of the world in 1884.