Someone
An ordinary life, observed.
See Someone at amazon.com
by Janice Harayda '70
Good fortune has followed Alice McDermott '78G ever since The New York Times praised her first novel, The Bigamist's Daughter, as the work of a "a very tough-minded and talented young writer." Her subsequent books have included the National Book Award winner Charming Billy and three finalists for the Pulitzer Prize for fiction. And her new novel Someone (Farrar, Straus and Giroux, 2013) has brought more acclaim. Long-listed for the National Book Award and short-listed for the National Book Critics Circle Award, it has appeared on many best-novel lists for 2013.
McDermott seems to have rejected from the start the idea that the way to achieve literary renown is to write about alienated young hipsters who make a religion of consumerism. Instead, says book critic Susan Farrell, she has won a reputation as "the premier chronicler of the ordinary lives of Irish Catholic New Yorkers in the twentieth century."
Someone begins in Brooklyn, but not the newly fashionable Brooklyn that has a shop devoted solely to artisanal mayonnaise. Instead, a modest daughter of working-class Irish Catholic immigrants tells the story of her life from her childhood during Prohibition to the brink of old age.
Marie Commeford has always worn glasses, and they are a metaphor for her effort to see the reasons for often unfathomable experiences, including her out-of the-blue jilting by a suitor, her job as a greeter in a funeral home, her marriage and the arrival of her four children, and her adored brother's decision to leave the priesthood for reasons he never fully reveals.
McDermott has described this plot as the story of an "unremarkable woman." But one of her gifts is her ability to infuse familiar events with layers of meaning, and Someone is full of characters with physical or emotional wounds whose lives indirectly pose the question: What does it mean to live with a disability? McDermott never moralizes but rather lets her answers unfold slowly, as a critic wrote in The Washington Post, "through small moments of beauty and vividness."
---
Personal Intelligence
Some of us read people better than others.
See Personal Intelligence at amazon.com
by Janice Harayda '70
All of us are detectives when it comes to understanding other people. We continually search "for clues that reveal an individual's intentions," says psychology professor John D. Mayer in Personal Intelligence: The Power of Personality and How It Shapes Our Lives (Scientific American/Farrar, Straus and Giroux, 2014). But research suggests that not all of us are equally skilled at decoding the signals. Or, as Mayer puts it, "Some people can pick up clues to personality that others miss."
Why do some of us seem to excel at what Mayer calls "reading people"? And can others cultivate that skill? Mayer's new book looks beyond emotional intelligence—a term coined in the groundbreaking article he co-wrote with Peter Salovey (now the president of Yale University) in 1990—to argue that "as important as emotions are, they have little to say about people's intentions, traits, motives, or life stories." More helpful to understanding all of those is what he calls "personal intelligence," which is broader than emotional intelligence and includes such skills as the ability to read facial expressions, to anticipate how others will react, and to make good decisions for ourselves accordingly.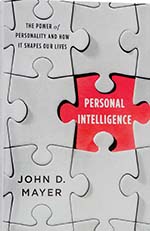 Mayer makes his case for personal intelligence by synthesizing decades of scholarship, supporting it with examples of high achievers from Ludwig van Beethoven to the late Washington Post owner Katharine Graham, and suggesting how people can improve their own personal intelligence. One story involves a New York police detective whose personal intelligence helped him make an unusually peaceful arrest of a violent suspect. Even if we don't wear badges, Mayer suggests, we can get better at seeing and understanding clues that may help us solve the mysteries not just of others' personalities, but of our own, as well. ~
Of Note:
---
Hoosh: Roast Penguin, Scurvy Day, and Other Stories of Antarctic Cuisine
by Jason C. Anthony '93G
University of Nebraska Press, 2012
See at amazon.com

The Bees are Waiting
Karina Borowicz '09G
Marick Press, 2012
See at amazon.com

The Fresh Honey Cookbook: 84 Recipes from a Beekeeper's Kitchen
by Laurey Masterton '76
Storey Publishing, LLC, 2013
See at amazon.com
Also of Note:
---
A Rookie's Year
by John Edwards, professor emeritus of theatre
Piscataqua Press, 2013
See at piscataquapress.com
Blue In Your Hair, Green On Your Chair
by Ellen Wolfe '71
Self-published, 2013
See at amazon.com
Bravo for Bravo: First Dog to Winter Over at the South Pole
by Sarah Tuck Gillens '70
Shire Books, 2013
See at amazon.com
The Business of Belief
by Tom Asacker '78
Self-published, April 2013
See at amazon.com
The Lons
by Peggy Rambach '82G
Paper Journey Press, July 2013
See at amazon.com
The Many Panics of 1837: People, Politics, and the Creation of a Transatlantic Financial Crisis
by Jessica Lepler, assistant professor of history
Cambridge University Press, October 2013
See at amazon.com
No Shirt, No Shoes, No Service
by Steve Cox, '75, '78G
Self-published, 2013
See at amazon.com
Planking on Headstones, Your Future Outside of Time
by Edward "Joe" Crummey III '76
Self-published, September 2013
See at amazon.com
Sacramental Shopping: Louisa May Alcott, Edith Wharton, and the Spirit of Modern Consumerism
by Sarah Way Sherman, associate professor of English
University of New Hampshire Press, October 2013
See at amazon.com
SDN: Software Defined Networks
by Thomas D. Nadeau '93 and Ken Gray
O'Reilly Media, September 2013
See at amazon.com
Searching for the Castle: Backtrail of An Adoption
by Barbara Leigh Ohrstrom '88
iUniverse, December 2013
See at amazon.com
Testimonies and Secrets: The Story of a Nova Scotia Family, 1844-1977
by Robert Mennel, professor emeritus of history
University of Toronto Press, September 2013
See at amazon.com
Views From a Window Seat: Thoughts on Writing and Life
by Jeannine Atkins '84G
Stone Door Press, 2013
See at amazon.com
---

Send review copies of books written by UNH alumni, students, faculty members or staff members to the editor's office at:

UNH Magazine
University of New Hampshire
New England Center G75
Durham, NH 03824

To inquire about book reviews, email alumni.editor@unh.edu or call (603) 862-1239.