Alumni News
Dream Builder
Mike '84 and Yvonne '84 Pilot give students a hand, so they can do the same for others.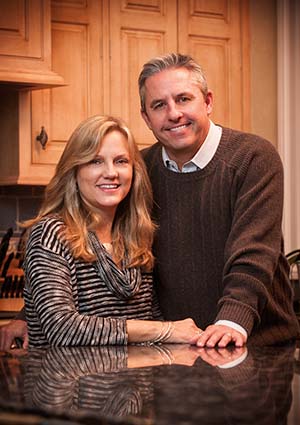 Perry Smith/UNH Photographic Services
In 2006, when Mike Pilot '84 became head of ad sales at Universal NBC, his new staff welcomed him with a signed photo from Alec Baldwin, star of the popular television sitcom "30 Rock." Like Baldwin's character, Pilot was a GE executive who had suddenly become a TV executive. "I'm looking forward to playing the real-life counterpart to the character that Alec Baldwin plays," Pilot joked during an interview at the time. It was a life-imitating-art plot twist that everyone took in good fun, including GE, which owns NBC.
Now chief commercial officer of GE Capital, Pilot credits UNH with helping to launch him on a successful career path. "UNH was a turning point for me in every way," says the Keene, N.H., native. "I stepped out of small-town life and into a much bigger realm of opportunities."
The first in his family to graduate from a four-year college, Pilot says his accomplishment was a dream come true for his parents. "Without the dedication and commitment of my parents and the generosity of many people I never had a chance to meet, I would not have had the opportunity to receive such a high-quality education."
Pilot, who switched from chemistry to business administration and management after his freshman year, recalls professors with an "amazing willingness to personalize my education, professors who would go out of their way to help." One of Pilot's favorite classes, Entrepreneurial Studies, included a series of guest speakers. "I found it incredibly inspiring," he says, "to meet and connect with people who were living their dreams."
Inspiring others is exactly what Pilot had in mind when he and his wife, Yvonne Tuberty Pilot '84, recently established a scholarship fund. The $1 million endowed fund provides support each year to as many as 20 students from New Hampshire, reflecting the Pilots' commitment to making sure deserving students get to attend college—just as Mike himself did. "This gift is my chance to pay it forward," he says.
Pilot has supported UNH in other ways, too. He has served on the UNH Foundation board and in 2011 was the business school's keynote speaker during homecoming weekend. The Pilots also contributed $250,000 to the new Paul College of Business and Economics. "With their new scholarship fund, the Pilots have made a significant leadership statement," says Debbie Dutton, vice president of advancement and president of the UNH Foundation. Their generosity, she notes, has already inspired other donors.
This is good news for Pilot, who wants to do all he can to expand the circle of giving he sees as critical to the future of the university—and its students. "UNH has a special commitment to New Hampshire students," he says. "Supporting these students and their dreams is one of the best investments we can make in the future of our communities and in the Granite State." Pilot and his wife look forward to meeting scholarship recipients in the years ahead, to watching them grow and embark on careers that, someday, may allow them to give back, too. Meanwhile, notes Pilot—sounding a lot like his parents—each one who graduates will make him proud.
blog comments powered by