In Memoriam
Robert "Bob" Houley '53


He was a natural athlete -- and a teller of tall tales.





By Karen Tongue Hammond '64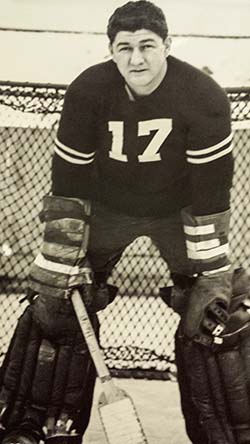 Bob Houley had never laced on a pair of skates. But when the UNH hockey coach asked if Houley played hockey, he said yes—goalie. "He knew he'd have to learn to skate almost overnight," says his daughter, Kathleen Houley Vita, "and he figured a goalie didn't do much skating." It was quick thinking that paid off. He became the varsity hockey team's goalie and captain. After learning to wield a lacrosse stick, he became captain of that team as well.
A natural athlete who had played high school basketball, football, and baseball in Berlin, N.H., Houley would be the first to admit that he was not a scholar, says Vita. But determination and hard work saw him through four years at UNH, service in the Marine Corps, and a long career as a top salesman with L.G. Balfour Co.
His work ethic developed early. At age 14, Houley was helping to support his family by working at a Berlin paper mill,using a sharp pike to snag floating logs and push them into the debarking machine. He also possessed a strong moral compass, says his daughter, which served him well throughout his life. He met Helen Daly, his wife of 56 years, when he was in his 20s and working a summer hotel job in addition to his work at Balfour. "He thought she was gorgeous," says Vita. But upon learning that Helen was just 17, he waited until the following summer to ask for a date.
After moving to Vernon, Conn., in 1962, Houley became interested in politics, working his way up from town council member to four-term state senator; later he became a lobbyist. Active in community life, he helped found a local youth hockey league. He coached his son James' team and in later years found himself back in goal again, playing with the New Britain Frontenacs.
Houley, who died of prostate cancer on October 2, 2013, was a great teller of stories—including a few mischievous tall tales, says Vita. At one point he told his young grandchildren that he alone had created the shiny gold dome atop the Connecticut Capitol building. "He was so convincing," she says, "that they believed it until they were teenagers."
Return to In Memoriam
blog comments powered by