As coach and mentor, Whoop Snively inspired his players to play well and live well.
Even half a century ago, A. Barr "Whoop" Snively was considered an old-school coach. His physical size alone lent him an air of toughness. Former players remember his hands in epic terms: as big as baseball gloves, as strong as vise grips. Then there was his guttural voice, and his way of spitting words out the side of his mouth, like a film-noir detective, ending most sentences with "see?"
As a football line coach and the head coach of varsity lacrosse and, eventually, ice hockey, Snively spent 11 years at UNH leading his teams to victory over opponents with better records and greater numbers. (For part of a season, for example, his ice hockey team had only eight players.) But when he died of a heart attack at a Durham gas station on April 15, 1964, his teams lost more than the man who developed complex game-day strategies and notorious conditioning drills. And even now, 50 years later, his former players remember him above all as a father figure whose mentorship enriched their lives well beyond the field and rink.
"Yes, he was a coach, but more important, a builder of men," says William Nelson '58, a lacrosse captain under Snively. "He was like a second father to me and many others."
Hired by UNH in 1953 as head coach for varsity lacrosse and as a football line coach, Snively brought with him years of experience as a coach and as an athlete. Having come into his own as an athlete and an individual during his own college days, he knew firsthand the struggles his players were facing on and off the field. Raised in a family of doctors, he had enrolled at Princeton with the intention of following suit. As a starting football player for the Tigers, however, Snively played a key role in the success of the 1922 "Team of Destiny," a scrappy squad that finished its season undefeated against higher-ranked opponents. He was voted the team's captain at the end of that season, after earning a reputation as the best forward passer in the East as well as a nickname that stuck for the rest of his life: "Whoop," or sometimes "Whoops." Deciding that his heart was in athletics, he also abandoned his plans for med school. He went on to earn a master's in education at Columbia, and was later hired by Brown University as a lacrosse coach and football line coach before going on to coach football, lacrosse, and hockey at Williams College for 16 years.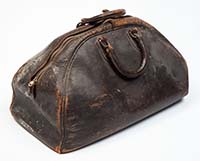 Lisa Nugent/UNH Photographic Services

THE RIGHT RX: Snively broke family tradition by not going into medicine. But he carried his father's leather doctor bag (above)—filled with game plans and information about his players—to every practice and game.
The same spirit and work ethic that characterized Snively's underdog success at Princeton also helped him lead UNH to success—especially on the lacrosse field. Few of his players had ever picked up a stick before coming to UNH, and they regularly faced off against other New England teams who drew their rosters from the elite prep school circuit. But in his first season as coach, the lacrosse team won six games and lost two. In his third season, in 1955, the team was undefeated and won both the Boston Division championship and the Roy Taylor National Championship. His career record at UNH for the sport was 85 wins and 47 losses, with one national championship and five New England divisional championships.
The UNH athletic director who hired Snively, Carl Lundholm '21, once said of him, "He's the kind of coach who never had the best material, but could beat those who did." According to his former players, the secret to Snively's success lay in a combination of strict rule-making and genuine caring that inspired them to give their all.