Features

Letting Go


Page: < Prev 1 2 3 4 Next >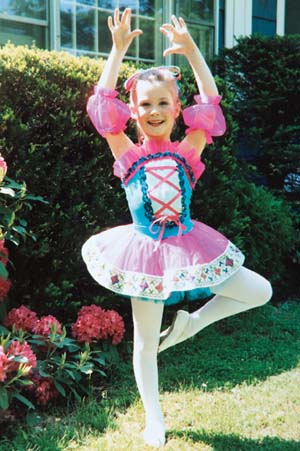 PHOTO OP: Before a recital, age 7
During her junior year, Halzack discovered that a friend from her history study group was a dancer. She started to sit in on professor Gay Nardone's jazz dance class. "I wasn't sure I wanted to dance," recalls Halzack, "but I wanted to be around dancers." Soon she got up the courage to ask ballet professor Larry Robertson if she could drop in on his class every so often. Fortunately, Robertson has an open-door approach to teaching. Several faculty and staff members have enjoyed the opportunity to drop in on his classes when they can, and twice a semester he has a Bring a Boy to Ballet Day in his classes (see story on Page 9). He looks at it as a way to "share the education," but sometimes a young man who drops in to humor his girlfriend gets hooked. And unlike women, who typically come into a college dance program with 12 to 15 years of lessons behind them, men can take up dance for the first time in college and go on to become professional dancers. Abilities developed through sports make them quick studies on the dance floor, and they never have to go on pointe, which requires, says Roberts, pretty much learning to dance all over again.
When Halzack started to drop in on ballet class, she created a stir. "We started thinking to ourselves, 'Where has this girl been?'" recalls Kimberly Lemieux '04. Lemieux was a psychology major who had also decided to quit dancing after high school, but wound up minoring in dance, and went on to dance in a number of Broadway shows. Halzack, who stood out in part because of her training, had grown up in a rural town that had more tobacco barns than theaters, but it was only a 15-mile drive to the Hartford Ballet School, where the teachers were excellent. And strict. "If you've never had a Russian ballet teacher," says Halzack with a smile, "you don't know what intense is." Her instruction at Purchase, she says, had also been excellent, and strict.
At UNH, Halzack found a different energy. It was, in her words, "kind and giving." And she was able to try things out at her own pace. Nardone let her take a choreography class normally restricted to majors, and in her senior year she auditioned for the ballet dance concert. She played a witch in "The Legend of Sleepy Hollow." "I put on the pointe shoes," she recalls, "which was something I swore I would never do again. It was fun!"
Teachers and coaches, like parents, often walk a fine line, hoping to encourage young people who have a dream without creating false hope or inflated expectations. The outcomes can be unpredictable: an extremely talented student may fade for lack of drive, while a less talented but very dedicated student may go on to have a successful professional career. Students with multiple interests and abilities may have an especially difficult choice. David Kent '83 says his parents thought he was crazy when he turned down a job to coach skiing at Middlebury and quit grad school in physical therapy twice before he got his first break as a professional dancer. In 1992, he called Nardone from Europe, where he was touring in "Cats," to let her know he was very happy with the path he had chosen. For the past 11 years he's been the "swing" dancer, an understudy for multiple roles, and dance captain for "Chicago" on Broadway. Jack Hayes '93 also followed his passion for dance instead of his major, hospitality management, and has performed on Broadway in a number of shows, including "Chicago," "Contact," and "Phantom of the Opera."
Nardone says everyone knew that Halzack, a history major who also had other options, could be a professional dancer: "I said to her, 'You have to dance.' There aren't that many people you would say that to, but she was one of those people."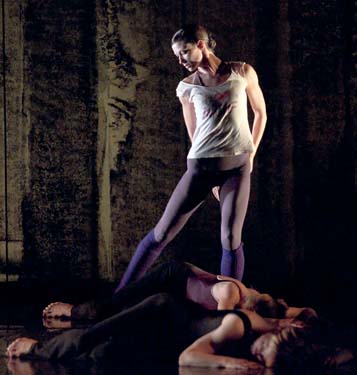 Lisa Nugent/UNH Photographic Services


Halzack, however, was still uncertain. One thing she did know was that she was enjoying dance again, and after graduation, she started teaching ballet, which gave her a new perspective on young dancers. "They're fragile little souls," she says, "and as their teacher you're a role model whether you like it or not." Looking back on the whirlwind of lessons and competitions and classes, she says, "Everything's so escalated. Kids become parts of the machine, and we forget that they're kids."

Leaning toward a career in teaching dance, Halzack started taking classes in both ballet and modern dance. She had tried modern dance at Purchase, but looking back, she says she just didn't get it. "In ballet, everything is very 'up' on the beat. In modern, you're dropping your center of gravity into the floor. It's a very grounded way of moving." Now it all clicked.

At the advice of her instructor, she took an intensive summer program with one of the most famous modern dance companies in the world, the Paul Taylor Dance Company. Amidst a dawning realization that she had to dance, she moved to New York in 2004, joined the Amy Marshall Dance Company and found a way to keep afloat financially. During one period, she was on her feet constantly: rehearsing by day, photocopying documents at a bank by night. And she still loved it. She had a new dream now—of joining the Paul Taylor Dance Company. It was a lofty goal, which she hardly expected to reach, but she tried out twice and made it to the final round both times.

Page: < Prev 1 2 3 4 Next >

Easy to print version