Features
One morning 11 years ago, Laura Halzack '03 realized she just couldn't make herself put on the pink tights and toe shoes. She wasn't quite certain how she had reached this point, but something she had loved doing for almost as long as she could remember no longer felt good. Now, in the midst of her first year at one of the top dance conservatories in the country and well on her way to achieving her lifelong dream of becoming a professional ballet dancer, she didn't know who she was in that dream anymore. She did know that she had to make one of the toughest phone calls she'd ever have to make.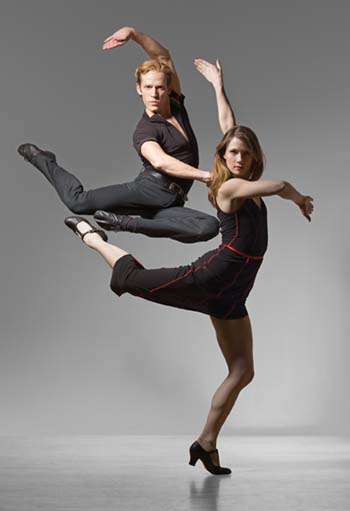 Lois Greenfield
A s a young child, Halzack had a number of the qualities that could point to a successful career as a dancer. She was eager to please her teachers—she's never forgotten the time her teacher scolded her for chewing gum while doing somersaults—and, as much as her parents tried to temper the trait, she was a perfectionist. She was also passionate about dance, especially after seeing her first "Nutcracker" at age 6. She loved Clara's dress, the lights, the twirling; and when other girls pretended to be Disney princesses, she pretended to be Clara. But there must have been something else that moved her teacher to offer her private lessons at a young age. Perhaps it was an early sign of that ineffable quality that compels an audience to keep their eyes on one person even when the stage is full of people.
As she grew, Halzack continued to develop not only the strength, flexibility and grace of a dancer, but also the self-discipline and drive. In third grade, she entered the world of competitive dance, where judges whisper running commentaries into tape recorders during performances, and eventually she brought home titles like Junior Miss Dance of New England and Miss Dance of Connecticut. In high school she started attending the Hartford Ballet School. It was like leading a double life. Or, more precisely, fitting two lives into one. She spent the day at her high school, where she took honors classes, and attended ballet school from 4:30 to 9 p.m. weekdays and Saturday mornings. She managed to squeeze in phone time with friends at night before starting her homework. But when her alarm clock would go off at 3 a.m., her mother couldn't help wondering if Laura was missing out on a normal life.
By this time, dancing was already starting to feel like more of a job than a joy. Yet Halzack's identity as Laura the Dancer had taken on a life of its own, and she felt guilty at the thought of doing anything else. A number of her friends had signed up with professional ballet companies directly from high school, but she auditioned for dance programs at four-year schools. She won a coveted spot in the highly structured dance conservatory program at the State University of New York's Purchase College.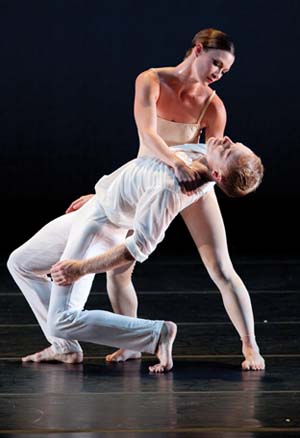 Scott Suchman
BELOVED RENEGADE: Laura Halzack '03 and Michael Trusnovec
By spring semester of her first year, however, Halzack knew she couldn't go on. Despite her talent, discipline and achievements, there was another side to ballet that was increasingly hard to ignore. The body type in fashion for ballet dancers today—sometimes called the Balanchine body—features a short torso, long limbs and feet so curved "they look like fishhooks," says Halzack. She was spending many hours a day in a world of mirrors, surrounded by other dancers who more closely fit the mold. The ballet shoe, it seemed, didn't quite fit, and she never intended to cram her foot into one again. In fact, she thought she would never dance again.
Now Halzack had to tell her parents. She got a knot in her stomach just thinking about it. Her parents, after all, had sat through scores of recitals, cheered her on through competitions, spent thousands of dollars on lessons and tirelessly performed all the background tasks needed to keep not one but two daughters on the merry-go-round of modern-day extracurricular activities. When she reached them by phone, she shed plenty of tears, but Greg and Mary Halzack remained calm. We love you no matter what, they said. Nobody is judging you. Nobody is feeling bad about it. This is your life, not ours. Laura was relieved by their reaction, but now she had to face some difficult questions: Who am I? Who am I going to be? What am I going to do?
What she decided to do immediately was transfer to a larger school in northern New England and start over as a "normal" college student, perhaps majoring in history. When she visited UNH, she fell in love with the campus and the area. Moving to Durham, she lived by herself off campus initially and focused on her studies.
Easy to print version
---
blog comments powered by